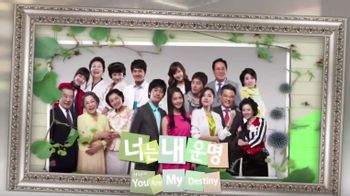 You Are My Destiny (너는 내 운명 Neoneun Nae Unmyeong) is an award-winningnote won 7 awards, 5 of which belong directly to Yoona South Korean TV drama that ran from May 2008 to January 2009 on the Korean Broadcasting System. It famously has Girls' Generation member Im Yoona in her first star acting role.
The story revolves around Jang Saebyeok, an orphaned milk-delivering girl who always tries to think positively after losing her eyesight in a Noodle Incident that happened several years prior to the story's beginning, after which she received a corneal transplant, her donor being a girl her age named Nayeong that died in a car accident.
As Saebyeok meets and grows closer to Nayeong's family, she searches for meaning in life, trying to piece together her past while also falling into a Love Dodecahedron that brings together various families in love, pain and strife.
Between November 2014 and April 2015, all 178 episodes of the series were uploaded to the KBS World TV channel on YouTube
.
---
Tropes contained in this series:
Arranged Marriage: Hosae and Subin get locked into one by their parents.

Hosae breaks up with Subin at the end of the scenario.
Bad Boss: Subin starts out as this towards Saebyeok, giving her unholy amounts of work, but progressively gets more lenient.
Becoming the Mask: When

Subin sends Saebyeok as her decoy into a blind date with Hosae, they actually build a relationship with each other to the point where Hosae calls himself her boyfriend. When he finds out that Saebyeok isn't who he thinks she is, he's not happy.

Zig-zagged in the sense that

Saebyeok isn't sure how to deal with the relationship; keeping it going or ending it to make Subin happy. She ultimately caves in and comes to terms with her love for Hosae.
Blatant Lies: Hosae telling Saebyeok that he's not scared after having just been chased by a dog, screaming all the while.
Broken Bird: Yeongsuk after crossing the Despair Event Horizon to the point where she's a relatively quiet introvert afterwards from all the emotional scarring.
Comedic Underwear Exposure: In episode 6, Taeyeong accidentally pulls Taepung's pants down, exposing a bit of his briefs before he hastily pulls his pants back up.
Content Warnings: Each episode has a brief disclaimer in between the intro and the start of the episode stating that viewer discretion is advised for anyone under the age of 15.
Contrived Coincidence: This show runs rampant with them, sometimes combined with Missed Him by That Much. Don't expect a single episode to go by without several cases of characters running into each other.
Gratuitous Foreign Language: Saebyeok and Taepung's subplot in episode 38.

Gratuitous English: They speak it (poorly) to some Solsa company executives who may (not) have it as their main language. Saebyeok is barely able to formulate a phrase, while Taepung is more accurate at forming correctly pronounced sentences.
Gratuitous Spanish: The executive that does talk thanks them in both English and this when they retrieve his lost USB flash drive. It's not explained why he spoke in Spanish.
Gratuitous Italian: Before all of this, Saebyeok asks Taepung if he knows any Italian, to which he jokingly says very poor pronunciations of "pizza" and "spaghetti".

Green-Eyed Monster:

Taepung admits to being jealous of Nayeong growing up.
Yeonsil is envious of Chilbuk and Minjeong, since Chilbuk treats Minjeong like royalty while Daegu treats Yeonsil like crap. She even admits to being "green with envy" (with that exact wording).
Subin tries hooking up with Hosae only to find that he's into Saebyeok, which is the opposite of what she wanted to happen. She then became a yandere.
Sunjeong is especially jealous of Saebyeok's relationship with Hosae.
Happily Ever After: The final episode showcases quite a positive resolution for the characters, aside from

Miok's death

. After all that she's done to her up to Miok's passing, Minjeong tries to distance herself from Saebyeok, but Saebyeok convinces her to stay through The Power of Love. Lohas launches a foundation named after Saebyeok, and the very final scene is of Saebyeok's giant family taking a group picture. There's also a slight implication that Saebyeok is pregnant.
Heroic BSoD:

Yeongsuk takes the news about Nayeong's death the hardest, and goes into deep denial over it from the moment she first hears Taeyeong confirming her death. She spends the end of episode 6 and all of episode 7 cycling violently through the Five Stages of Grief, and by the time she finally comes to acceptance she's reverted to a quiet, soft-spoken person. Of course, Saebyeok herself is crushed with guilt from causing everyone to find out.
Soyeong and Yunhui do not take

the Kim family's aggressive rejection of Soyeong

lightly, and the latter believes that it was her fault.
Panjae breaks down crying upon

being fired

in episode 147,

being unable to go anywhere else and having a family to support

.
Hypocrite: In episode 42, Subin denounces Saebyeok's submission for the design contest she is co-judging and calls her a loser despite previously having stated in a boardroom meeting that there would be no discrimination among the judges' views of the contestants.
I Have No Son!:

Yeongsuk says that Taeyeong is no longer her son after he stubbornly refuses to let Soyeong go.

Minjeong kicks Yuri out of the family after seeing that a photo shoot of her has gone to a porn site.

In episode 131, Daejin kicks Taepung out of the family after learning that he went along with Yuri's pregnancy lie.
Intoxication Ensues: Scenarios in which Taepung and Saebyeok or Taeyeong and Soyeong have gone out for drinks have ended with the male carrying the too-drunk-to-function female on his back.
In Vino Veritas: This is how Subin informs Saebyeok that

she was the pedestrian that Nayeong swerved to avoid, causing the crash that killed her

in episode 94. Gyeongwu tries to distance Saebyeok from this truth by blaming it on Subin's drunken stupor. When she wakes up in the morning, she quickly regrets saying that.

Anyone who has ever gotten completely wasted has inevitably done this.
It's All My Fault:

Yunhui believes that she's to blame for

the Kim family not accepting Taeyeong and Soyeong

, since

Taeyeong's family used the fact that Soyeong had a teenage daughter as a huge bit of evidence against her

.
In turn, in episode 44 Hwaran blames herself for having Soyeong get pregnant as early on as she did.
In the final episode, Minjeong blames herself for

Miok's death

.

It's a Small World After All: Who would've thought that the orphan you adopt not only has the corneas of your late daughter, but

happened to be the pedestrian that your daughter swerved to avoid, causing a crash that would kill her?

Gyeongwu: Life works in mysterious ways sometimes.
Laser-Guided Karma:

After countless instance of taunting and tormenting Saebyeok, Subin finally gets what's coming to her when

she makes Saebyeok drop and break her kitchen model that she had worked on for a week to submit into the Lohas design contest

and Saebyeok just snaps. To add extra sweetness to the karmic takedown, Taepung enters the room and starts laying it in on her as well. Not to mention how this is the first time she's genuinely remorseful about something she's done to Saebyeok.
Episode 43 has

Bukjo

returning after running off with the down payment Saebyeok needed to move into her own place, leaving her homeless and poor (which is why she joined the Kim family in the first place). She tries to make amends with Saebyeok, but she is quick to tell her how much she's ruined her life.

Loads and Loads of Characters: Sixteen, to specify, each with their own subplots.
Love Dodecahedron: Gets pretty convoluted later in the series. Bukjo likes Taepung, Taepung likes Saebyeok, Saebyeok likes Hosae, Hosae likes Saebyeok, but Subin likes Hosae.
Mama Bear:

Soyoung exaggerated the trope to comedic extents when it came to Yunhui at the start of the series. However, due to Cerebus Retcon, her protection over her daughter is treated more seriously later on.
Yeongsuk to Nayeong. In one episode, Saebyeok got herself in trouble at the spa she worked/lived at, and the owner insulted her eyes (Nayoung's eyes). Yeongsuk was not happy, and immediately started ripping into the owner.
Once she becomes close with Saebyeok, Yeongsuk starts becoming protective of her too, like when she started ripping into Minjeong at the start of episode 36 when she saw her shoving Saebyeok to the ground.

Manchild:
Meaningful Name: In episode 69, Saebyeok admits that

Saebyeok isn't her real name, but was given that name since she was found by a cop near midnight and was given her director's last name

.
In episode 42, Yeongsuk rips into Hwaran for thinking that

Soyeong could be accepted into the Kim family

, and breaks down crying immediately when she gets home about the nasty things she said to her.
After Subin

shoves Saebyeok, making her drop her kitchen model and break it

, she is noticeably shocked at what she's just done and tries to apologize.
Subin's self-hatred for what Saebyeok has made her turn into comes to a peak when she

tells Saebyeok that she was the one that caused the accident that killed Nayeong

in episode 94.
Noodle Incident:

The firecracker accident in which Saebyeok became blind, which happened several years before the show's story begins.
The death of someone named Doyeong, which apparently elicited a similar reaction from Yeongsuk compared to her reaction to Nayeong's death.
Apparently Daegu had an affair against Yeonsil.

Oh, Crap!:

Subin at the end of episode 35 (the Wide Eyes and Shrunken Irises variety) after she sees a falling board about to come down on Hosae.
Yeonsil at the end of episode 46 after she sees

Daejin and Yeongsuk arriving at Hosae and Subin's engagement party

.

On the Next: Usually, episodes end with previews of the next episode.
Riches to Rags: When Bukjo leaves without telling Saebyeok, she not only takes Subin's purse but takes Saebyeok's down payment, with which she cannot move in. After this, she is homeless and poor.
Runaway Bride:

When Yuri and Taepung end up getting married, Yuri is overcome by her fears of the drastic changes that will ensue if she chooses to go through with finalizing their marriage, and ditches the wedding before she can walk down the aisle

.
The Scrappy: Invoked; once Subin and Punggeum took a Face–Heel Turn against Saebyeok, the comments became flooded with people saying how much they hated them.
She Is Not My Girlfriend: Taepung's reaction whenever someone is a Shipper on Deck to him and Saebyeok, although secretly he's into her.
Shipping Torpedo: Taepung's opinion on

Taeyeong and Soyeong

; he believes that their relationship is for the worse and repeatedly tries to coax

Taeyeong

into backing out of it. This then grows into the whole Kim family later on before

Taeyeong and Soyeong are given consent to marry and are accepted

.
---
---