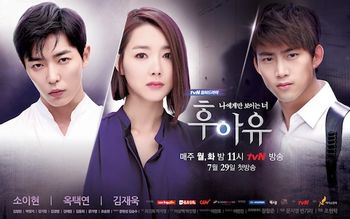 Who Are You (후아유) is a 16-episode Korean Drama. It originally aired on South Korea's tvN network in the summer of 2013.
Si-ohn is a policewoman who, along with her partner and boyfriend Hyung-joon, are on a smuggling stakeout in 2007. The stakeout goes bad, Hyung-joon is killed, and Shi-ohn is sent into a coma that lasts six years. She finally wakes up apparently healthy, but unable to remember the details of the drug bust, or her romance with Hyung-joon. Shi-ohn is assigned to light duty in the Lost and Found Center (exactly what it sounds like, lost property), where she is put in charge of brash, cocky, handsome young detective Gun-woo, who chafes under his strict new supervisor but is also attracted to her.
It turns out the Lost and Found Center isn't light duty after all, because of one thing: Si-ohn now sees ghosts. Six years being sort-of-dead has now caused her to see spirits, including the spirits of people associated with items in the Lost and Found storage. The ghosts that she sees are people who were the victims of foul play, and Shi-ohn, with the help of the ghosts, starts solving cold cases. She also gets assistance from another ghost—Hyung-joon.
Not to be confused with the trope Who Are You?, or the song by The Who.
---
Tropes:
---