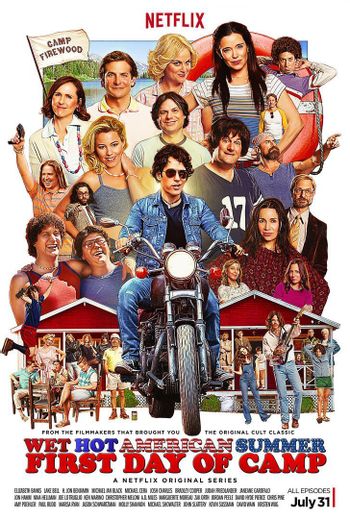 Wet Hot American Summer: First Day of Camp, is, as the title implies, a Prequel to Wet Hot American Summer, a 2001 cult comedy documenting the last day in session of Camp Firewood. The vast majority of the film's cast—many of whom have had their careers take off since the original—return to play themselves fourteen years later and two months younger.
The series premiered on Netflix on July 31st, 2015. A Sequel Series called Wet Hot American Summer: Ten Years Later premiered on August 4th, 2017.
Caution: Massive spoilers below. Even for a show that relies heavily on the Rule of Funny as this one does, it's Troperiffic to the point where the names of the tropes themselves can be spoilers. You Have Been Warned.
This series contains examples of: