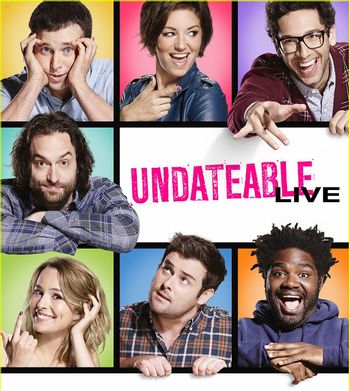 Undateable is an NBC sitcom that first aired during the summer of 2014. It stars Chris D'Elia as Danny Burton, a lady's man, and Brent Morin as Justin Kearney, a romantic who can't confess his feelings for the woman he loves. The show revolves around their developing friendship as Danny takes Justin under his wing and the hijinks they get into along with the regulars at Justin's bar.
Despite being given a summer burn off by NBC (airing two episodes weekly before airing the final three at once), the show actually had some of the strongest summer ratings NBC ever had and actually increased its viewership. It was enough for NBC to renew the show for a slightly shortened second season, this one introducing Bridgit Mendler as Candace, the bartender at Justin's bar in an attempt to escape the Contractual Purity caused by her role in Good Luck Charlie. The second season featured a live episode that created so much buzz that NBC renewed the show for a 13 episode third season order with the proviso that every episode be broadcast livenote Initially only the East Coast feed would be live, with the West Coast only receiving a live show for special episodes. Fan outcry caused the producers to quickly decide that both coasts would be broadcast live.
Not to be confused with the Channel 4 documentary series The Undateables.
A Tall Order of Tropes Walks Into A Bar: