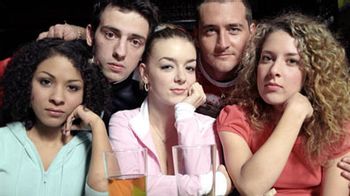 Two Pints of Lager and a Packet of Crisps
(commonly shortened to
Two Pints
or
Two Pints of Lager
) is a BBC sitcom written by Susan Nickson. It is set in the town of
Runcorn
in
Cheshire, England,
and revolves around the lives, loves and assorted issues of five friends, consisting of the
motherly
, caring, yet slobbish Janet Keogh (neé Smith),
slacker
but sensitive and all-round nice guy Jonny Keogh, who is Janet's long-term boyfriend and later husband, the laddish Gaz Wilkinson, whose
brain power definitely isn't his strong point
, the ambitious and hot-tempered Donna Wilkinson (neé Henshaw), who is Gaz's long-term girlfriend and later wife, and the narcissistic, insensitive and often
rather bizarre
Louise Brooks. In later seasons, Timothy "Tim" Claypole, the Archer's
bitchy and camp
new barman, and Donna's new boyfriend, the overly Cockney, initially
unpleasant
but later rather friendly Wesley Presley, were added to the cast roster. The show was first broadcast in 2001, and ran for nine series over a decade, making it one of BBC Three's most popular shows.
While the first two seasons of the show consisted of a mere six episodes each, the later seasons were much longer. There have also been four "special" episodes - a musical special, which was standalone, a horror special, which, while non-canon, was added on to the end of the sixth series, a live special, which was the seventh season opener, a Comic Relief special, and two specials that aired in 2009, consisting of another musical, and a Sliding Doors parody.
Although Two Pints is a comedy series, it has shown itself to be more dramatic and serious, usually towards the end of a season. The final episodes of each season tend to end on a bittersweet, and sometimes quite a sad note.
The show is mainly known for its adult, sometimes scatological humor, mostly involving references to sex and private bodily functions. The humor has also become rather surreal at times, most notably in the "special" episodes. The series is also known for rather naughty language. However, the word "fuck" is uttered only once in each series, and always in the final episode.
The show's ninth season aired in 2011, with two new characters, after Sheridan Smith (Janet) and Kathryn Drysdale (Louise) stated they would not be returning to their roles. This prompted... mixed reactions
, to say the least. Despite the ninth series ending with the intention of the show continuing, the show was cancelled a short while after it finished.
Came sixtieth in Britain's Best Sitcom.
---
Provides Examples Of:
Orphaned Punchline: Inverted in an episode which sees Janet trying to be funny by telling (in the other characters' opinion, awful) jokes - the viewer hears the beginning of some of the jokes, but not the punchlines.
Remember the New Guy?: Dion, Donna's unpleasant younger brother. He only appears in the sixth season finale. (Although an early season episode showed a young boy sitting at the dinner table in Donna's mother's house — it is never explained who he is, so it is quite possible that this is a younger Dion.)
Right Behind Me: Used in one episode, in which a rather insecure Gaz is ranting to Janet about Donna's decision to start college (he feels as though she's abandoned him), then, without missing a single beat, ends it with "...and she's in the kitchen, isn't she?". The next few moments make it quite clear that Donna did indeed hear every word.
Sixth Ranger: Tim in the seventh season. Munch and Kelly may also count, although to a lesser extent.
Soundtrack Dissonance: Done deliberately and humourously in the horror special when the pub's jukebox suddenly turns on all by itself... and starts playing "Bring It All Back" by S Club 7.
Straw Feminist: Donna in later seasons.

She believes her lack of career advancement is due to the "patriarchal misogynistic bastards" rather than any of her actions (such as asking for a deceased colleague's job during a moment of silence in his memory). She even uses this excuse when she loses the position of new manager of The Archer to Janet.
After she gets fired from the bucket factory, both her former position and the one she was angling for are given to women, something she dismisses as "tokenism".
"Keep On Running" confirms that Donna actually knows very little about what it means to be a feminist.

Stripperific: Donna in the live special: She throws off a thick coat to reveal a skimpy dancing outfit. And then she strips again. Not that anyone is complaining, of course...
Un-Cancelled: Two Pints was originally cancelled in 2006, but high demand caused BBC THREE to revive the series in 2008. However, that didn't last long......

It was uncancelled again in 2011, but only for a short new season.

Unlimited Wardrobe: Usually played straight, but sometimes averted, when, in a few episodes, some characters (usually Donna, in early episodes) wear some of the same clothes they've worn a few episodes back.
---