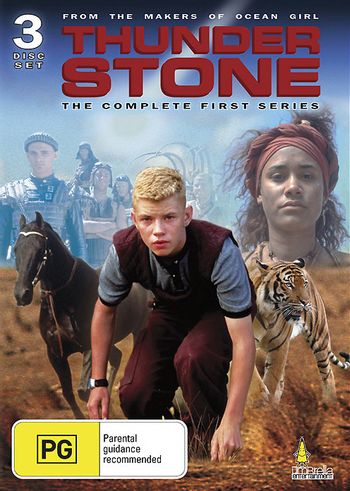 Thunderstone
is an Australian children's show that ran from 1999 to 2000. Created by Jonathan M. Shiff.
In 2002, the Nemesis comet hit the Earth, wiping out all plant, animal and human life, bar a few survivors, and plunging the world into a seemingly-endless winter. The only people who survived were those in underground bunkers or research stations, who were protected from the impact. Their lives are hard. Their food is artificial and tasteless, their lives are highly regimented and they can never go outside or see the sun.
Eighteen years later, holodeck-obsessed teenager Noah Daniels is experimenting with the holodeck in North Col, the station he calls home. He finds himself in a desert. As he's never seen this simulation before, he begins to explore but is quickly captured by a strange group of children no older than himself who call the area "Haven". They tie him up and drag him to a cave, accusing him of being a "Protector" spy. It quickly dawns on Noah that this is no simulation. Somehow, he's travelled in time.
---
Thunderstone contains examples of:
---