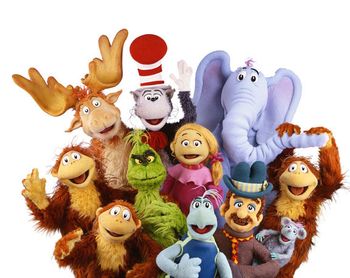 This is what you get when you combine
Jim Henson
puppetry with
Dr. Seuss
characters, along with some CGI animation for the settings.
It aired from 1996 to 1998 and lasted for two seasons.
---
Tropes:
Accessory-Wearing Cartoon Animal:

The Cat in the Hat, as usual, and the Little Cats all wear said hat, bowties, and gloves. In season 2, however, Little Cat B seems to have traded in his/her bowtie for a ruffled collar.
Terrence McBird wears a green neck collar and scarf.
In addition to wearing blue socks on his hands and feet, Fox in Socks wears a matching bowler hat and scarf.

Adaptational Dumbass: The Wickershams tend to be portrayed as clumsy louts who talk in Hulk Speak.
Adaptational Nice Guy: Jane Kangaroo is still pretty conceited, but we see a lot more of her redeeming qualities than in Horton Hears a Who!. Her treatment of Horton is also generally nicer (or at least well meaning).
---