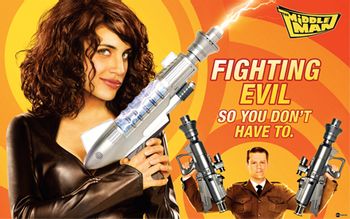 "...an over-the-top, sixteen-car-pileup-sugar-popped-cereal-bowl of a series that's not afraid to be everything your mother warned you about television: a cartoonishly extreme, randomly fantastic, special-effects laden, three-fisted walking-and-talking toy-line advertisement of an action-adventure-sci-fi comic book in which the fabric of reality barely survives in the end, and the journey invariably reveals a completely surreal strangeness behind everything we hold to be true."
— Javier Grillo-Marxuach's original pitch for The Middleman.
Wendy "Dub-Dub" Watson is an art school graduate who, like most artists, has to get a Real Job to get by in life. Because she's an artist, this means temp work. Her mother worries about her and calls to ask embarrassing questions about her sex life that Wendy answers in dutiful deadpan... until the day she's temping for a genetics research firm and a multi-limbed, multi-eyed monster shows up in the reception area. Enter... the Middleman. He seems to be a refugee from the Silver Age of Comics, from his looks to his manner of speech. And having dispatched his duty, he warns Wendy that as far as the rest of the world is concerned this was a "gas explosion" and if she tells the truth of what she's seen he'll have to root her out like a hog (not in the Australian sense) and kill her.
Wendy is immediately fired; it turns out her boss believes that she was the one who caused the "gas explosion" by fiddling with her missing father's lucky lighter. She spends a day pounding the pavement looking for more temp work but she finds no prospects now that word's spread that she's a possible pyromaniac. So she returns to the illegal sublet she shares with another young, photogenic artist only to have her artist-activist roommate Lacey inform her that she has a message from one more temp agency... a rather oddly named temp agency... and they want to see her immediately.
So Wendy reports to the Jolly Fats Weehawken Temp Agency to check on the job offer. After a battery of increasingly bizarre aptitude tests at the hands of the cranky receptionist Ida, Wendy is introduced to the Middleman, who explains what his organization is about. You know the way things work in comic books where Mad Scientists and supervillains are always trying to take over the world? Well, that's also the way things work in real life. It seems he's looking for an apprentice and Wendy's cynical, snarky attitude and matter-of-fact reactions to things like the eyeball monster make her an ideal candidate for the job. Angry that he'd framed her Wendy refuses at first, but thanks to her current lack of any other prospects she relents and joins up. After that she embraces this new lifestyle and proves to excel at it, despite the problems a twenty-four hour a day "temp job" causes in her personal life.
Originally a comic book (that itself started as a television pitch), Javier Grillo-Marxuach aptly adapted it for a surprisingly faithful series that had one season on the increasingly inaccurately named ABC Family. The season was originally intended to be thirteen episodes long, but was cut to twelve for budgetary reasons. The script for the never-filmed thirteenth episode, titled "The Doomsday Armageddon Apocalypse," debuted in a table read at Comic-Con '09 with almost all of the original cast, and was released as a graphic novel shortly thereafter. Later another graphic novel and table read was released for a crossover between the comic and television series that resolves the mystery of what happened to Wendy Watson's missing father in both dimensions.
---
This series provides examples of:
Beard of Evil: Every male in the alternate universe has a goatee.

Except for the guy who wants to leave it

Big "NO!": In the very first episode, when

the villain of the day, a mad scientist planning to build an army of super-gorilla soldiers controlled by a supercomputer to take over the world, accidentally destroys her own supercomputer.

It's hilariously long.
Brand X:

Tahiti Water is a Captain Ersatz of Fiji water.
!!!! is a dodge for those energy drinks in narrow cans like Red Bull, Monster, and Rockstar.
Wilderness Girls = Girl Scouts. Skinny Mints = Thin Mints. Bora Boras = Samoas
Myfaceinatube.com = MySpace, Facebook, YouTube
The uMaster = The iPod
Greasy Spoon: Batter of the Bulge Pancake House (home of the Luftwaffle, the Panzercake, and an un-named dish which references the invasion of Crete).
Hammerspace: The Middleman decides to walk into a situation unarmed, and spends several moments pulling increasingly improbable weapons and devices off his person, including an opened crossbow.
Retirony:

Cindy

, who was two weeks away from retirement.
---