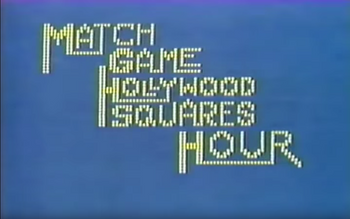 Game Show by Mark Goodson that ran on NBC and combined two great games into a single show. Two new contestants began by playing Match Game, using the same format as PM (three rounds of questions) with the only difference being the tiebreaker - while played the same as before, the contestants now chose from a list of four possible answers.
The winner of Match Game played against the returning champion on Hollywood Squares with three more celebrities joining the group. The champion always played X, the challenger O, and each captured square awarded $25, with victory in each round awarding that round number times 100 ($100 for Round 1, $200 for Round 2, etc.). There was also no Secret Square, carrying over from Squares' 1980-81 syndicated season. When time expired, whoever had the most cash became champion and played the Super Match.
While the concept was sound and the audiovisuals top-notch, the lack of regular panelists and Goodson's insistence on not going with what made Squares work hurt the show's overall quality. It didn't help that its competition included ABC's General Hospital, then TV's top-rated daytime soap opera, which drew viewers away. The Hour lasted nine months (October 31, 1983 to July 27, 1984), being replaced by Santa Barbara.
---
This show provides examples of:
---