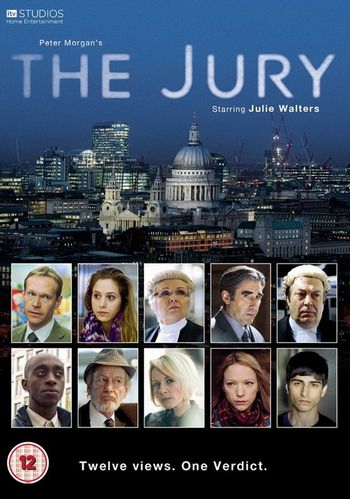 The Jury is a British Series aired on ITV in 2002, and a second season aired in 2011. A courtroom drama series, both seasons dealt with an ongoing murder trial at the Old Bailey in London, focusing on the twelve jurors summoned to try the defendants, the defendants themselves, and the attorneys defending or prosecuting them.
The first season focuses around the trial of Duvinder Singh (Sonnell Dadral), a Sikh, accused of murdering his classmate John Maher for bullying him. Defending Duvinder is George Cording (Derek Jacobi), while Gerald Lewis (Antony Sher) represents the crown.
Members of the jury include recovering alcoholic Johnnie Donne (Gerard Butler); former vicar Charles Gore (Stuart Bunce), who is having a Crisis of Faith; lonely pensioner Elsie Beamish (Sylvia Sims) who faces a terminal illness; Rose Davies (Helen McCrory), who is in an abusive marriage Len (Mark Strong); Marcia Thomas (Nina Sosanya), who has to leave her young daughter with her estranged mother; Jeremy Crawford (Nicholas Farrell), whose family is recovering from major fraud; and instinctive foreman Peter Segal (Michael Maloney), whose neutral opinion is threatened by the influential words of his father-in-law. The series focused on racial prejudice and bullying in various forms.
The second season, released in 2011. The season focused on the re-trial of Alan Lane (John Lynch), previously convicted of murdering three women he had relationships with. Due to questionable evidence, Lane undergoes prosecution again with a new jury to decide his fate. However, it appears someone connected to the victims plots to rig the trial to get justice. Representing Alan Lane is Emma Watts (Julie Walters), while prosecuting him is John Mallory (Roger Allam). The season also has an ongoing subplot about the abolition of trial-by-jury.
Amongst the jurors include Paul Brierly (Steven Mackintosh), who cares for his ill mother; Rashid Jarwar (Aqib Khan), who has Aspergers syndrome, becoming obsessed with the previous trial; Sudanese refugee Tahir Takana (Ivanno Jeremiah) who wants to become an American citizen to reunite with his brother, and is aided by fellow juror, retiree Jeffrey Livingstone (Ronald Pickup); Derek Hatch (Rory McCann), a fireman who enjoys jury service; Lucy Cartwright (Natalie Press), who is posing as her employer Theresa Vestry (Sarah Alexander); and Katherine Bulmore (Johdi May), a high school teacher who slept with a student and becomes pregnant.
---
This series provides examples of:
---