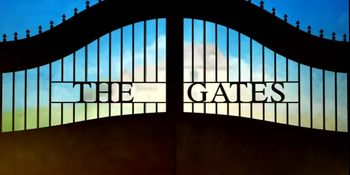 The Gates is an ABC 2010 show, revolving around a rich suburban community and its... unique inhabitants.
Police Officer Nick Monohan and his family have just moved from the Chicago to the titular suburban community of The Gates, hoping to escape from some bad memories. The community welcomes them with open arms, but it soon becomes obvious that there are several people in The Gates with secrets. The Radcliffs are a vampire couple trying to raise their adopted human daughter without endangering her with their lifestyle. Brett and several of his friends at the high school are werewolves. The local MD Peg and Spa owner Devon are both witches, but with very different motivations. However, they all live in the gates because it offers protection from the outside world, and would do anything to help their families.
Its cancellation was announced in October 2010.
Tropes: