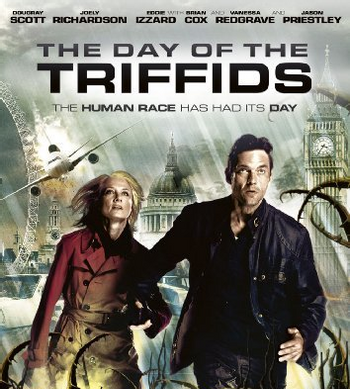 The Day of the Triffids is a 2009 science fiction miniseries produced by The BBC and based on the eponymous 1951 novel by John Wyndham. It is the second television adaptation by the BBC, following a 1981 miniseries.
Bill Masen (Dougray Scott) is a British researcher of Triffids, a type of plant life which is ambulatory, carnivorous and intelligent, and being harnessed by humanity for a rare type of oil that has stopped global warming by replacing fossil fuels. When Bill is attacked by one of the Triffids at a containment site after an activist breaks in, he is partially blinded and sent for surgery. At the same time, a massive solar eruption takes place, blinding everyone who looks at it.
When Bill awakes from surgery, he discovers that his sight has been restored but human civilisation is descending into anarchy. On a commuter airliner, the only passenger not affected by the solar flare (Eddie Izzard) survives its crashing and adopts the name "Torrence" for himself, while Radio Britain deejay Jo Playton (Joely Richardson) also misses the flare and finds Bill, and they travel together to seek help. At the same time, the Triffids break free from their containment gardens and start ravaging the population.
Bill and Jo, along with fellow sighted survivor Coker (Jason Priestly) begin looking for a way to combat the Triffid outbreak, while Torrence begins to amass power for his own evil means and the Triffids start moving closer to London...
The series was broadcast over two nights, and changed several elements of the films to fit in with modern issues (including the fight against global warming).
---
As an adaptation of the original novel, many of the tropes on that page still apply. This miniseries also provides examples of:
---