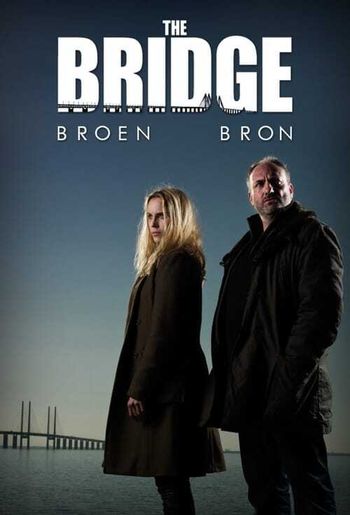 Bron|Broen (the former title is Swedish and the latter Danish), known in English-speaking markets as The Bridge, is a Nordic Noir thriller co-produced by DR and SVT, the respective state broadcasters of Denmark and Sweden. The first series was shown in its native countries in 2011, and in 2012 followed Forbrydelsen onto BBC4 in the UK. A second season aired throughout Scandanavia in 2013 with the third season airing it the region, followed by the UK in 2015. The fourth and intentionally final season was shown in both Europe and the UK in 2018.
The show has had six remakes to date:
The series begins when a body is discovered on the Øresund bridge that links Copenhagen (Denmark) with Malmö (Sweden), carefully dumped at the exact point where the bridge is divided by the international border. As a result, the two cities' police forces are forced to collaborate on the investigation, led by Saga Norén (Sweden) and Martin Rohde (Denmark). Threatening messages are then received by the police and media, from somebody purporting to have committed the murders to draw attention to social problems.
In the second season, Martin and Saga are reunited when the discovery of a Ghost Ship turns out to be the first in a series of attacks by a group of apparent ecoterrorists.
The third season has Saga joined by a new Danish partner, the secretive insomniac Henrik Sabroe, as they try to track down a Serial Killer seemingly motivated by homophobia who targets both Danish and Swedish LGBT activists and is strangely poetic about their murders.
The fourth season reunites Saga and Henrik when a pro-immigrant activist is stoned to death under the bridge, in what initially looks like a politically-motivated killing but then turns out to have far more personal motivations.
---
This series provides examples of:
---