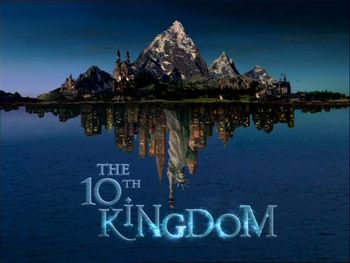 "My name is Virginia...and I live on the edge of the forest!"
—Virginia begins her tale
Take just about every well-known Western Fairy Tale, myth, legend, oral history, and fantasy story known to man. Cross them with screwball comedy, an epic Hero's Journey, fantastic (for television, anyway) special effects, and a lot of surprising twists. Add a dash of tragedy and mystery, a sprinkling of some rather serious (or should we say, ''Grimm''?) issues, and some great British casting, and what do you get?
Not the Wicked Stepmother's potion, but the 2000 NBC/Hallmark miniseries The 10th Kingdom.
Virginia Lewis (Kimberly Williams-Paisley), a down-on-her-luck New York City-based waitress, and her ne'er-do-well janitor father Tony (John Larroquette), are accidentally dragged out of their boring, miserable lives when they cross paths with a golden retriever (actually an enchanted prince) and an ex-convict werewolf (actually, half-wolf) — one fleeing his stepmother the Evil Queen (Dianne Wiest), the other working for her (sometimes). Complications and hi-jinks result, as magic spills over into New York (the Tenth Kingdom of the title), and soon the foursome end up via magic mirror in the world of the Nine Kingdoms, where fairy tales are real but "Happy Ever After didn't last as long as we'd hoped." Pursued by vengeful Trolls and their odious father, and Rutger Hauer as a typically villainous but effectively chilling Huntsman, they must chase after the magic mirror and wend their way in and out of the lives of many fairy tale characters (always with a twist) in order to find their way home again.
Oh, and restore the prince to his throne, save the Kingdoms, learn a few valuable lessons, and discover some secrets that will resolve past tragedies. Something for everyone!
Not to be confused with The Twelve Kingdoms, Romance of the Three Kingdoms, any of the several works named Seven Kingdoms.
---
This TV miniseries provides examples of:
---
"I'd like to say that Wolf and I lived happily ever after, but our lives were almost immediately interrupted by another crisis in the Kingdoms. But that's not this story, this story is done. And, when you live every day with all your heart, then you can be "happily ever after" even if it's only for a short time. My name is Virginia...and I live on the edge of the forest. And this is the end of the First Book of the 10th Kingdom."