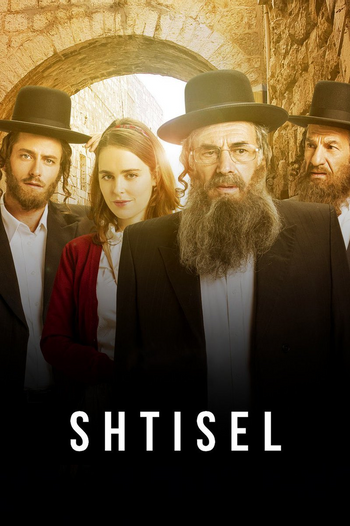 Shtisel is an Israeli television drama that premiered 2013. It follows the lives of the Shtisel family, Haredi (ultra-Orthodox) Jews living in Jerusalem, and how they deal with love, loss, and modernity.
The main characters are Shulem (Dov Glickman), a 60-year-old rabbi and teacher; his youngest son Akiva (Michael Aloni), a bachelor with artistic dreams; his daughter Giti Weiss (Neta Riskin); and Giti's daughter Ruchami (Shira Haas). Supporting characters are Giti's husband Lippe Weiss (Zohar Strauss), Shulem's elder son Zvi Arye (Sarel Pitterman), Shulem's mother Malka (Hanna Rieber in Season 1, Lea Koenig in Season 2), Shulem's coworker Aliza Gvili (Orly Silbersatz-Banai), and Akiva's love interest Elisheva Rotstein (Ayelet Zurer). Season 2 introduces Shulem's brother Nuchem (Sasson Gabai) and Nuchem's daughter Libbi (Hadas Yaron) and elevates Lippe and Malka to main characters. Season 3 elevates Giti and Lippe's son Yosa'le (Gal Fishel) and Ruchami's husband Hanina Tonik (Yoav Rotman) to main characters, and introduces Racheli Warburg (Daniella Kertesz).
All three seasons are available on Netflix with subtitles.
---
This show provides examples of:
---