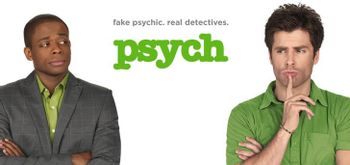 Gus:
You named your fake detective agency "Psych"? As in "gotcha"? Why didn't you just call it "Hey, we're fooling you and the police department; hope we don't make a mistake and somebody dies because of it"?
Shawn:
First of all, Gus, that name is entirely too long; it would never fit on the window. And secondly, the best way you convince people you're
not
lying to them is to tell them you are!
Shawn Spencer was drilled from childhood by his father, a police officer, to have a strict attention to detail and other detective skills. As a result, Shawn effectively possesses a Photographic Memory and the ability to observe and put together clues too subtle for the average person to pick up.
Unfortunately (and at least partly a result of the training), as an adult Shawn is equal parts prankster and slacker with no real desire to apply himself in any normal occupation. So, he employs his skills to identify criminals and their methods in the news and calls crime tip lines for the reward. This backfires on him when he is arrested as an accomplice. The police are suspicious of how good his tips are, believing that he must have been involved with the crimes.
To avoid jail time and continue his lucrative-but-lazy crimebusting, Shawn tells the police he's a psychic. After a demonstration on several of the officers in the Santa Barbara Police Department, he is allowed on a case. After solving it, he opens up a detective agency and, to the perturbation of certain members of the Santa Barbara Police Department, Shawn and his best friend Burton "Gus" Guster help the police solve crimes assigned to them by Chief Karen Vick.
The two frequently collaborate with the real detectives Carlton "Lassie" Lassiter and Juliet "Jules" O'Hara. Lassiter finds Shawn unbearably annoying, though he eventually grows to respect him, while Juliet is more civil to them, and eventually becomes Shawn's Love Interest. Shawn's retired father Henry usually makes at least one appearance an episode, sometimes just in the Flashback opening. Being that Henry taught him his skills, he is one of the few in on the con.
As one could easily guess from just a passing glance at this page, Psych is a show that doesn't take itself too seriously. Shawn and Gus frequently talk about their childhood, which includes numerous references to The '80s and (increasingly) The '90s. With Shawn attempting to appear as a psychic whenever giving The Summation, he ends up doing comically-inappropriate things when identifying a killer.
The show originally ran from 2006 to 2014. Continued fan interest has led to Psych being revived as a series of TV movies. There is no set release schedule, however, as each is produced whenever the cast can spare the time. The first movie, a Christmas Special simply entitled Psych the Movie, aired in December 2017. A second movie, Psych 2: Lassie Come Home premiered in July 2020 on Peacock. A third, This is Gus, was released in November 2021.
Not to be confused with The Mentalist on CBS, a show with a similar premise that has been the frequent target of Take Thats and lampshading within the series.
---
Psych provides examples of:
open/close all folders
Tropes A to H
Tropes I to P
Tropes Q to Z
Shawn and Gus use a disguise from last season in a season 8 episode to sneak into the police station; they are immediately detained because cops aren't as lax as the security at a gun club (they weren't attempting a Ballistic Discount in that episode if that's what you're thinking). Plus, they were both wearing ''half'' of a fake beard.
---