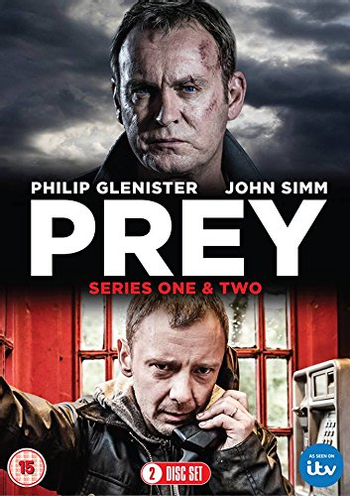 A fast paced British Conspiracy Thriller created by Chris Lunt that aired on ITV in 2014 and 2015, notable for its use of a single camera filming setup.
The first series follows the story of Marcus Farrow, a Detective Sergeant in Manchester who is wrongly accused of murdering his wife and son. When an opportunity to escape custody arises he takes it and goes on the run in the city he used to police. Pursued by his former colleagues, he becomes determined to clear his name and find those responsible for killing his family.
A second series focuses on David Murdoch, a prison officer whose life spirals out of control when his pregnant daughter is kidnapped. Her kidnapper then blackmails him into helping a female prisoner escape during what seems to be a a routine hospital visit, forcing him to go on the run to save his daughters life. DS Susan Reinhardt returns from the first series as the lead investigator.
---
Prey contains examples of:
Series One
Series Two