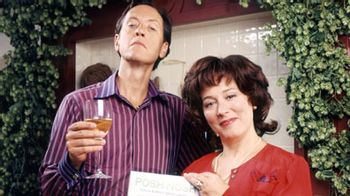 "Extraordinary food for ordinary people"
—Minty Marchmont - Posh Nosh Catchphrase
2003 BBC comedy series about Simon (Richard E. Grant) and Minty Marchmont, wealthy restauranteurs and owner of the Posh 'Quill & Tassel'. prepare various dishes ranging from architect's fish and chips to bread AND butter pudding, offering snooty and frequently surreal commentary along the way.
Simon and Minty use their own special phrases instead of ordinary culinary terminology, such as interrogate a lemon; and their cooked vegetables are not peeled but embarrassed, after which they might be annoyed instead of boiled (but not for too long, lest they get frightened). They also frequently insist on ultra-specific, often prohibitively expensive, or non-existent ingredients, such as Greek currants that you actually have to fly to Greece to buy or organic salt.
At the same time, increasing domestic tension runs beneath the surface of every exchange between Simon and Minty, like Simon frequently rolling his eyes at Minty's malapropisms or Simon sarcastically commenting on Minty's cooking skills, along with some not-so-subtle hints about Simon's repressed homosexuality.
The couple illustrate aspects of the British class divide, with Minty as a middle-class social climber who married Simon for his status. She constantly brags about her high station in life, while also seeming to run the Quill and Tassel's kitchens single-handed.
---
Tropes: