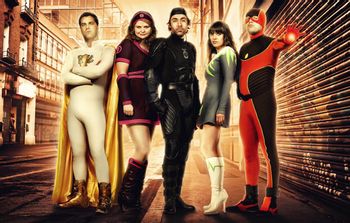 A short-lived British comedy series, No Heroics was the first sitcom produced by ITV2 and ran from September to October 2008 for six 20-minute episodes.
The series is set in modern-day Britain, in what the opening describes as "a normal city with one small difference: there are superheroes". They're pretty much common-place, with powers ranging from super strength to controlling monkeys, and since the public knows about them, they just hang out in capes all day. Our main characters themselves are a group of "capes" who meet after work in The Fortress — the pub where superheroes go to unwind and where there are "No Masks, No Powers, No Heroics", hence the title.
Of course, the series parodies a good number of superhero tropes and there's a lot of Genre Savvy and shout outs going on.
---
No Heroics provides examples of:
---