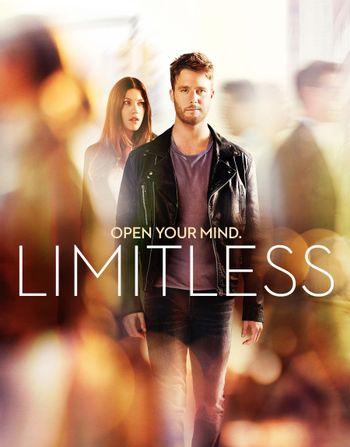 "Every time he takes it he basically becomes the smartest person in the world. That's a resource. Let's make it
our
resource."
— Agent Rebecca Harris, "Pilot"
Limitless is a 2015 television series that aired on CBS, and a Sequel Series to the 2011 film of the same name.
Brian Finch (Jake McDorman) is lost in his life. His career as a struggling musician has tapered off while all of his bandmates moved on to better things, his siblings seem to have grown up while leaving him in the dust, and now his father is sick with a seemingly undiagnosable disease. But a chance encounter with one of his old friends leads to Brian taking the mysterious new drug NZT - a drug that allows the human brain to function at its highest potential. Brian thinks the drug will help him achieve something that will make his father proud of him in the time he has left, but his attempt to get more from his friend lead to him becoming the chief suspect in his friend's murder and on the run from the FBI.
Brian is able to gain evidence and turn it over to FBI agent Rebecca Harris (Jennifer Carpenter) in order to build goodwill, but soon after almost gets killed while pursuing the killer. Blacking out from his bullet wound, he awakes to find himself being treated by Senator Eddie Morra (Bradley Cooper reprising his role from the film). Morra offers him one dose and a way to counteract the side effects, his only reason that Brian will be in a position useful to him very soon. Brian solves the murder and, at Rebecca's suggestion, is brought on as an informant while the FBI studies his apparent immunity to NZT's side effects.
The series also stars Hill Harper as Agent Spelman Boyle and Mary Elizabeth Mastrantonio as FBI special agent Nasreen "Naz" Pouran. It is also produced by Bradley Cooper, who reprised his role from the film. The character sheet for both the movie and the show is here.
Was cancelled after its first and only season.
---
This series contains examples of:
---