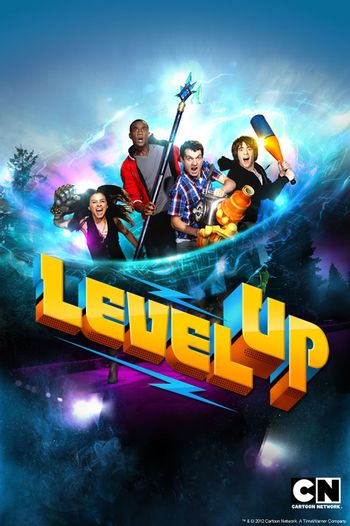 A 2012 live-action show on Cartoon Network based on a pilot TV film released in November 2011. The story follows the adventures of a group of gamers who call themselves "Never Fail" and cooperate well together on a MMORPG called Conqueror of All Worlds. However, they are unaware that they go to the same school, where they hate each others' guts. During a usual gaming session, the three unwittingly open a portal in the game to their world which is exactly the opportunity that the game's main villain, Maldark, was waiting for. He starts sending his minions to take over the real world. But Never Fail also find that if the monsters can become real, so can their weapons. Thus they take it upon themselves to put aside their hatred for each other, stop the monsters, and prevent Maldark from getting through.
It was made with the consultant help from Jagex (best known for the MMORPG RuneScape) and Rooster Teeth (of Red vs. Blue and RWBY fame).
The final live-action scripted series produced by the network, the show lasted two seasons, with its final episodes airing in 2013.
---
Level Up provides the following tropes:
---