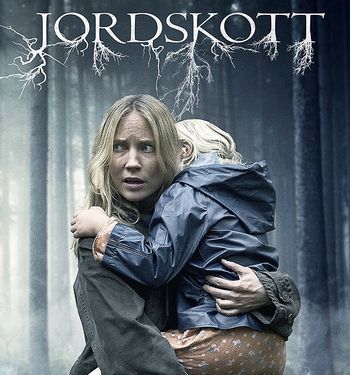 Once more it's peaceful.
Through blood it was bound.
There is a meaning,
Deep beneath the ground.
Jordskott (literally Earth Shot, a Swedish term for cookie cutter phenomenon) is a 2015 Swedish crime and thriller series with supernatural elements. The story is centered on the police-officer Eva Thörnblad who, seven years ago, lost her young daughter Josefine near a forest lake near Silverhöjd, her town of birth. Despite intense police-investigations, Josefine's body was never found and the general consensus amongst the authorities is that she must have drowned. Eva, however, has been unable to let go, convinced that someone must have taken the girl. When Eva is summoned back to Silverhöjd to hear the testament of her estranged father Johan, a powerful local industrialist, reports come in of another missing child. Convinced that there is a connection between this case and her own daughter's disappearance, Eva starts digging into the numerous mysteries of Silverhöjd while moving into the old family mansion outside town.
This story involves a lot of rapidly unfolding secrets and is difficult to discuss without spoilers.
The show ran for two seasons.
---
This show provides examples of: