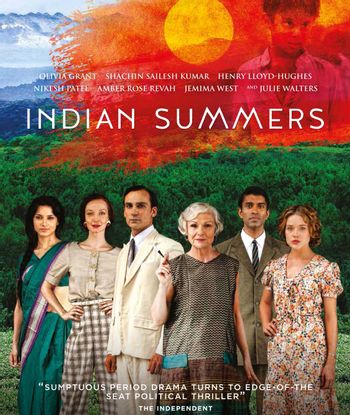 Sarah Raworth: They look like kings!

Douglas Raworth: Kings of what?
Beginning in the twilight of The Raj of the 1930s, Indian Summers portrays the entwining lives of a colorful Ensemble Cast of Indian and British people during summers spent at Simla; the official summer capital city of British India located in the foothills of the Himalayas.
Reminiscent of an earlier BBC drama series, The Jewel in the Crown, Indian Summers follows the complex relationships of a cast of British and Indian people who live and work together despite the ever growing political and racial tension that surrounds them as well as the steady and inevitable decline of The Raj, and the eventual birth of the new Indian nation.
A richly historic, period piece crafted about the End of an Age, Indian Summers does not shy away from the politics of the era, nor the harsh realities of racism and tension always simmering in the background, as well as focusing on the varied lives, scandals, romance, intrigue and mystery of both the cast and the country.
Not to be confused with an Indian Summer. Though it is set in summer.
Now with a character list!
For more stuff like this, check out A Passage to India, The Far Pavilions, and The Jewel In the Crown.
Season Two Tropes are in process and will be posted after the season finishes airing!
---
---