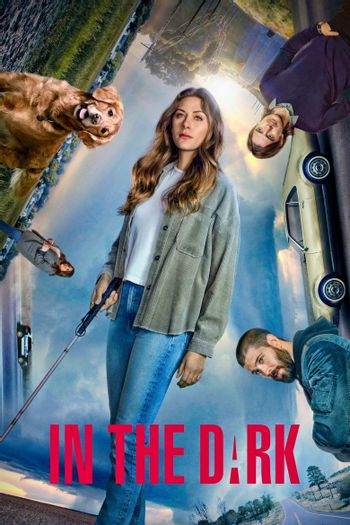 "Why don't you look blind?"
"Same reason you probably don't look stupid."
In the Dark is a 2019 drama on The CW created by Corinne Kingsbury. The pilot was directed by Michael Showalter (The Big Sick).
Murphy Mason (Perry Mattfeld) is a surly, alcoholic, blind woman who lives in Chicago and works for her parents' school for guide dogs. She lost her sight at fourteen and pretty much dislikes everyone except for her vet roommate, Jess, and Tyson, a teenage drug dealer who once saved Murphy from a mugger.
When Murphy goes to meet Tyson one night and finds his dead body, however, she becomes determined to discover who killed him and why. The police aren't much of a help, since the body disappears before they even find it and they only have the word of a drunk, blind woman to go with, but Murphy is determined to solve the case and find out what happened to one of her only friends. With her guide dog Pretzel and a stubborn attitude, she sets out to figure things out.
On May 12, 2022, it was announced that the show would end after four seasons.
Not to be confused with Into the Dark (a series of horror films on Hulu), the podcast In the Dark, or a previous TV series from 2017 with the same name.
---
Tropes included in In the Dark:
---