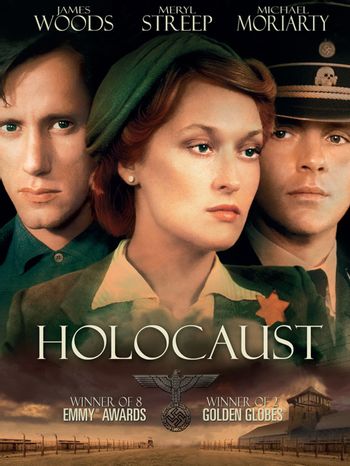 Holocaust is a 1978 American television miniseries written by Gerald Green, directed Marvin J. Chomsky, and featuring an Ensemble Cast that includes Meryl Streep, James Woods, Michael Moriarty, Joseph Bottoms, Tovah Feldshuh, Fritz Weaver, Rosemary Harris, David Warner, Sam Wanamaker, Ian Holm and Nigel Hawthorne. It was originally shown on NBC in four parts from April 16–19, 1978.
Taking place over a ten-year span from 1935 to 1945, the series tells the story of two German families. One is the Jewish Weiss family, consisting of patriarch Josef Weiss, his wife Bertha, and three children (Anna, Rudi, and Karl) as well as Karl's gentile wife Inga. The other is the Dorf family, consisting of Erik, Marta, Peter, and Laura. Unable to find work as a lawyer due to economic problems, Erik Dorf joins the SS, and goaded on by his ambitious wife Marta rises up through the ranks to help plan out The Holocaust.
Holocaust is often viewed as a Spiritual Successor of sorts to Roots (1977), being another historical miniseries that attempts to depict a well-documented atrocity of the recent past viewed through the eyes of a family living through it, and even featuring some of the same crew, most notably director Marvin J. Chomsky. The series has also been widely credited with bringing the term "Holocaust" into popular usage to describe Nazi Germany's attempted extermination of the European Jews and other "undesirables".
---
Tropes:
Kick the Dog: Mueller rapes Inga and then mocks Karl about it.
---