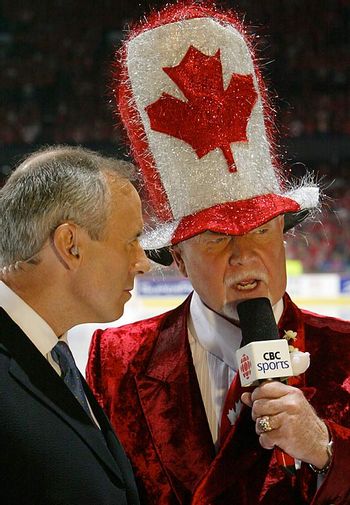 "Hello Canada, and hockey fans in the United States and Newfoundland..."
— Foster Hewitt, when introducing the show (back before Newfoundland was part of Canada)
The oldest sports show still on the air, anywhere, having started on radio in 1931 and airing on CBC television since 1952. In many ways, it is to Canada a cultural touchstone as much as a mere sports telecast, partially because of this history. It is broadcast in multiple languages (including, of all things, Punjabi) and, by virtue of being on CBC, is available everywhere in the country even if you don't have cable. During the regular season it airs games on Saturday night; in the spring the playoffs largely take over the CBC TV prime time schedule.
Each game has two 18-minute intermissions per standard National Hockey League rules, which the telecast uses for player interviews, documentary features, and commentaries. Each week sees at least two games, and sometimes as many as four, regionally divided, over the course of an evening. The Playoffs will usually see at least one game per day broadcast, until the team eliminations leading up to The Stanley Cup Finals start to thin the ranks.
In addition, in the 1970s, cartoon segments, shared with NBC's Hockey Game of the Week, starring Peter Puck were shown to illustrate to newbies the basics of the game like its rules, equipment and officials. Decades later, the character was revived exclusively for the CBC.
Starting the with the 2014-15 NHL season, HNIC was be broadcast on CBC, but the broadcasts started to be produced by
Rogers Communications' Sportsnet arm, as a part of the NHL's new Canadian TV deal starting that season. Furthermore, former CBC talk show host and rock DJ, George Stroumboulopoulos was made the new host, replacing Ron MacLean—he would continue to do Coach's Corner with Don Cherry, but will switch to hosting City's new Sunday night "Hometown Hockey" game. The majority of HNIC's personalities and commentators have been hired by Rogers to continue their roles under the new regime. However, the broadcasts drew lower than expected ratings and Stroumboulopoulos was eventually replaced by MacLean as the main host.
A popular segment in the first intermission was "Coach's Corner". It was co-hosted by Don Cherry and MacLean, the former a former coach with his loud clothing who commented about the sport with its various players and games. However, Cherry also was most controversial for his loud rants were often at best only tangentially about the sport such as insulting various people like foreign players from Europe, players who wear protective face visors or veteran players who has spoken about the health issues related to the sport such as fights or concussions. While those rants drew complaints over the decades, CBC and later Sportsnet tolerated Cherry's antics for the high ratings he drew. Finally on November 9, 2019, Cherry went too far when he complained about "You people... who come here" not wearing Remembrance Day poppies which drew a wave of complaints for what was perceived as a hateful xenophobic smear against immigrants. These include an overwhelming flood of complaints to the Canadian Broadcast Standards Council and an official denouncement by the Royal Canadian Legion who distributed those poppies for veterans charities. As a result, under immense pressure from protestors, and likely advertisers who had lost their patience with him, Cherry was fired by Sportsnet on Remembrance Day itself (November 11), and "Coach's Corner" was ended.
The show's long-running opening theme song, originally written by Dolores Claman in 1968, has been referred to as "Canada's second national anthem." Unfortunately, due to complicated legal issues, CBC lost the rights to the song in 2008 to rival network TSN. CBC ran a contest inviting the public to create a new theme tune and the winner was Colin Oberst's "Canadian Gold". Quoted, appropriately, in the intro to the Propagandhi song "Dear Coaches Corner", which criticizes the segment for thrusting conservative political commentary during a sports game.
---
This show provides examples of:
---