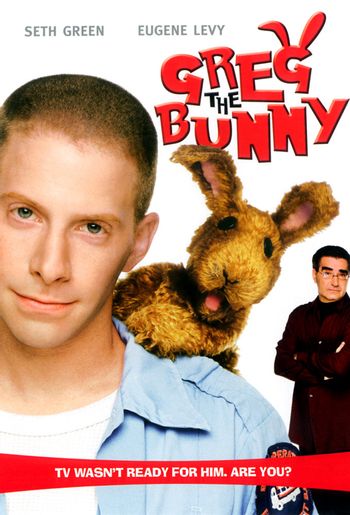 "We're Just Like You!"
Greg the Bunny was a Sitcom set in a world where humans and puppets coexist as sentient races and interact freely. Greg the Bunny is the starring puppet of Sweetknuckle Junction, an Alternate Company Equivalent to Sesame Street; the show focuses on various backstage shenanigans. In this case, Greg and the others in the cast are much less innocent offstage than on, contrasting with both The Muppet Show and other puppet shows fully on the cynical end of the Sliding Scale of Idealism Versus Cynicism. (The series was something like Who Framed Roger Rabbit.)
Extra drama comes from the fact that Greg is a relative newcomer to the cast, having replaced another rabbit because he was much cuter.
Despite the relative cynicism, this show did have heartwarming moments and good spoofs thereof.
This show was greatly respected by critics but didn't get enough of an audience. It aired for one season (2002) on FOX and two (2005–06) on IFC. Greg and the crew returned in MTV's Warren the Ape, which aired for one season in 2010.
---
Tropes:
---