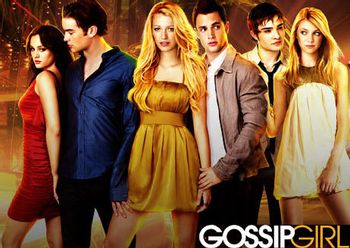 "There's nothing Gossip Girl likes more than a good catfight and this could be a classic."
Gossip Girl is a Prime Time Soap based on the book series of the same name by Cecily von Ziegesar, adapted for television by Josh Schwartz (The O.C., Chuck) and Stephanie Savage.
Narrated by the omniscient blogger known as "Gossip Girl" (voiced by Kristen Bell), the series follows the lives of privileged rich kids in New York City following the return of reformed bad girl Serena van der Woodsen (Blake Lively) after an unexplained absence and her reunion with frenemy and UES queen bee Blair Waldorf (Leighton Meester). Rounding out the cast of characters are Nate Archibald (Chace Crawford), Serena's ex and Blair's new boyfriend; Chuck Bass (Ed Westwick), an infamous bad boy and Nate's best friend; Dan Humphrey (Penn Badgley), a middle class loser and aspiring writer crushing on Serena; Jenny Humphrey (Taylor Momsen), Dan's insecure younger sister; Vanessa Abrams (Jessica Szohr), Dan's best friend; Rufus Humphrey (Matthew Settle), Dan's rock star father, and Lily van der Woodsen (Kelly Rutherford), Serena's mother.
Gossip Girl originally ran on The CW from 2007 to 2012, while a continuation and soft reboot sequel series of the series premiered on HBO Max in 2021.
---
Tropes in this show include:
Aesop Amnesia:

Jenny with the "not letting the cool kids change who I am" thing.

Unless it was an act with her being half of Gossip Girl.

Vanessa with her attempts to beat Blair at her own game, never realising for more than a few episodes at a time that sinking to Blair's level means she can't claim the moral high ground.
Adaptational Jerkass: Just like in the show, in the original books, Nate and Serena sleep together before Serena leaves for boarding school. Unlike in the show, however, Blair and Nate hadn't started their romantic relationship yet and so neither Serena or Nate cheated.
All Gays are Promiscuous: Inverted. Eric is probably the least promiscuous character on the show.
All Girls Want Bad Boys: Carter Baizen in seasons two (Blair) and three (Serena), though the latter season seems to be pushing for Carter as Jerk with a Heart of Gold rather than a true bad boy.
All Love Is Unrequited: Very prominent.

Season 1 - Nate loves Serena who loves Dan, Vanessa loves Dan who loves Serena, Chuck loves Blair who loves Nate.
Season 2 - Vanessa wants Nate who wants Jenny, who is all Bros Before Hoes because of Vanessa. Then Jenny wants Nate who is dating Vanessa, and then Nate loves Blair who loves Chuck, who is an emotional mess by the time.
By season 3 everyone seems to pair off pretty happily (with the exception of Jenny, who likes Nate again, but he's dating Serena). Of course it doesn't last.
Season 4 sends everyone back to the land of the lonely, with Dan and Nate both pining for Serena, Vanessa feeling unloved by Dan, and Blair and Chuck both believing the other no longer loves them even though the opposite is true.
Season 4/5: Chuck, Dan and Louis all love Blair who suddenly has a different kind of love for each (and desire for being a princess) and cannot decide which kind is the best. Serena is pining for Dan. Nate is bouncing between a cougar, Charlotte Rhodes and fake Charlotte Rhodes (don't ask).
Season 6: Cleaning Up Romantic Loose Ends.

All Take and No Give: Nate is the Taker to Blair's Giver when they were going out in Season 1. In 'The Handmaiden's Tale', Blair tries so hard to make Their First Time special after Nate screwed everything up by sleeping with her best friend, and all Nate can do is call her out about not being sympathetic to him about a problem he never told her about in the first place.
Asshole Victim: Almost the entirety of the main cast qualifies each time Gossip Girl targets them, but special shout out goes to Blair. Highlights from season one include: after spending an entire season slut-shaming Serena whenever she gets annoyed by her, Blair gets slut-shamed by the entire school when its made clear she slept with both Nate and Chuck. The hypocritical nature of Blair's previous (and future) actions and comments regarding others makes it hard to have much sympathy for her plight.
A Threesome Is Hot: Dan is mighty proud over having had one with Olivia and Vanessa. Nate and Blair think he's out of his mind.
Attempted Rape:

Chuck, twice in one episode actually. But, remarkably, no one seemed to care. That is, except for Rufus when he learned about his attempted rape of Jenny.
Jack in Season 2, who doesn't get off so lightly.
Author Appeal: The constant on-again/off-again relationship between Dan and Serena probably has something to do with the fact that the actors have been friends for almost a decade and have actually dated throughout the run of the show. Blake Lively and Penn Badgley are notorious on the set for showering each other in public displays of affection immediately after either one of them films a love scene with any of the other actors.
Happens with Dan/Vanessa in season three. Everyone from Dan's girlfriend to Vanessa's mother is informing Dan that he carries a torch for his BFF.
-