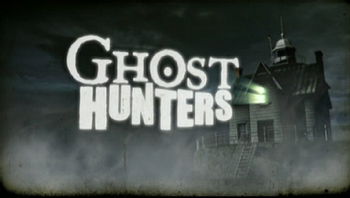 Ghost Hunters is a documentary show that airs on Syfy. It follows the investigations of The Atlantic Paranormal Society (TAPS) as they help people with paranormal problems, and learn the truth behind reports of hauntings. The show debuted in October, 2004, with its final episode on Syfy airing October 26, 2016. The team has constantly changed personnel throughout the show's run, with co-founder Jason Hawes and investigators Steve Gonsalves and Dave Tango as the three most constant members.
The show has two spin-offs: Ghost Hunters International (2008-) with Robb Demarest, Brandy Green, Joe Chin, Barry Fitzgerald, Ashley Godwin, Kris Williams, and Paul Bradford; as well as Ghost Hunters Academy (2009-) with Steve Gonsalves and Dave Tango. Joe and Barry have also appeared on Ghost Hunters to assist the team.
Former members include Grant Wilsonnote TAPS' other co-founder, Andy Andrews, Brian Harnois, Donna La Croix, Kris Williams, Adam Berry, and Amy Bruni. Dustin Pari left the show for a few seasons but came back for its final season in 2016.
The show's new channel appears to be A&E.
---
This series provides examples of:
Now inverted. Since an incident a while back involving Brian's disappearance, when he was known to be suicidal, Jason does not take kindly to criticism of Brian.
---