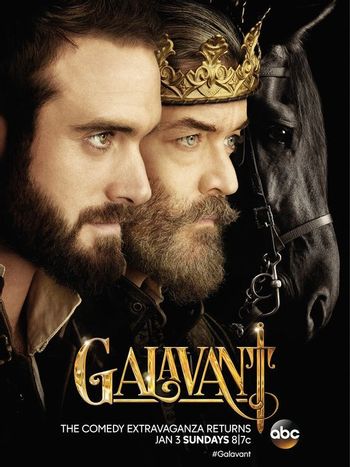 Way back in days of old
There was a legend told
About a hero known as Galavant...
Galavant is a musical-comedy series which first aired on ABC during the 2014/2015 midseason winter break, bridging the gap between season halves of Once Upon a Time. The series follows the exploits of the famous knight Galavant, whose true love Madalena was kidnapped by the evil King Richard. However, when Galavant attempted to rescue her, Madalena chose to marry Richard for the fame and fortune instead of returning to Galavant. About a year later, a despondent Galavant is approached by Isabella, the princess of Valencia. Her kingdom has come under attack by Richard, and she wants Galavant to liberate it. There's just one problem; Galavant has spent the last year or so doing nothing but drinking and becoming a sour and depressed shut-in, so he's not really up for playing the hero. So it falls to Isabella and Galavant's squire Sidney to try and inspire him to take up the quest to save Valencia and once again become the hero he was meant to be. Along the way are laughs, epic battles, and songs. Lots and lots of songs.
Surprisingly—despite mediocre ratings and the show's own narrator thinking it unlikely—the show was picked up for a second season, which began airing January 3, 2016. The second season resolved many of the plot threads that had been Left Hanging at the end of the first, as well as a number of new conflicts that arose during the course of the season. That said it still ended with something of a Sequel Hook, as well as some more subtle hints at potential plot/character arcs that would be present in a third season.
But alas, the show's luck ran out and it wasn't renewed for a third season. Alan Menken says that he isn't done with the project, however, and hopes to be able to find another home for it, even hinting at a possible run on Broadway.
---
Tropes present include:
---
It's lots of plot we know!
But anyway heigh-ho!
We're off and here we go!
Come back for next week's show!
To see what's next for Ga-la-vant!