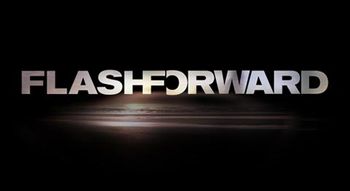 "He who foresees calamity is doomed to suffer it twice over."
Two FBI agents, Mark Benford and Demetri Noh, are investigating a terrorist cell when an event called "the Blackout" occurs. Everyone on Earth blacks out for two minutes and 17 seconds. Twenty million people die. And more than that: during the two minutes and 17 seconds, the people didn't just black out, they had visions of what they were doing six months in the future.
Janis Hawk, their co-worker at the FBI, has a vision of herself pregnant. Olivia, Mark's wife, sees herself with another man. Demetri doesn't have a vision at all, leading him to believe that he will be dead in six months. Mark himself has a vision of his own Room Full of Crazy with clues about what caused the Blackout (as well as him falling off the wagon). And Mark's daughter Charlie says there will be "no more good days."
The series built a nice Myth Arc with a great "Holy Shit!" Quotient. Based on the 1999 sci-fi novel by Canadian author Robert J. Sawyer (who gets a blink-and-you-miss-it Creator Cameo in the pilot), though it shared little with the book other than the flashforward concept and a character name or two. This show is not to be confused with Flash Forward (1996), which is totally (and tonally) different.
If you're just getting started on watching this show, know the Wild Mass Guessing page for this show has been divided into folders letting you read theories as you go without being spoiled.
Despite having a strong start, ratings progressively dwindled throughout its run until it ended up with about a third of its original viewers, and it never made it to a second season, leaving fans pondering the season-ending Cliffhanger. Zap2It declared FlashForward the most missed show
after a poll determined that 46.3% of voters would miss it the most (by comparison, the runner-up, Ghost Whisperer, had 17.1% of the vote), and there were rumours that Starz might pick the show up for a second season, but it appears this has come to naught.
---
This show contains the following tropes:
Mark's pistol, the one that

was even predicted to murder Demetri Noh on March 15th

.

Dyson Frost's white queen, which contains the ring he used to stay awake during the blackout.
Mark can turn into this if you talk about his daughter in a way he doesn't like.
Nicole Kirby's mother spends her spare time gluing pennies to the wall in one room of her house. All of these pennies are from the year Nicole was born.
---