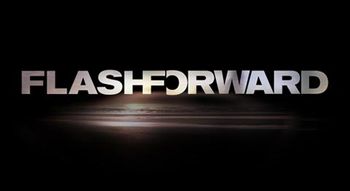 "He who foresees calamity is doomed to suffer it twice over."
Two FBI agents, Mark Benford and Demetri Noh, are investigating a terrorist cell when an event called "the Blackout" occurs. Everyone on Earth blacks out for two minutes and 17 seconds. Twenty million people die. And more than that: during the two minutes and 17 seconds, the people didn't just black out, they had visions of what they were doing six months in the future.
Janis Hawk, their co-worker at the FBI, has a vision of herself pregnant. Olivia, Mark's wife, sees herself with another man. Demetri doesn't have a vision at all, leading him to believe that he will be dead in six months. Mark himself has a vision of his own Room Full of Crazy with clues about what caused the Blackout (as well as him falling off the wagon). And Mark's daughter Charlie says there will be "no more good days."
The series built a nice Myth Arc with a great "Holy Shit!" Quotient. Based on the 1999 sci-fi novel by Canadian author Robert J. Sawyer (who gets a blink-and-you-miss-it Creator Cameo in the pilot), though it shared little with the book other than the flashforward concept and a character name or two. This show is not to be confused with Flash Forward (1996), which is totally (and tonally) different.
If you're just getting started on watching this show, know the Wild Mass Guessing page for this show has been divided into folders letting you read theories as you go without being spoiled.
Despite having a strong start, ratings progressively dwindled throughout its run until it ended up with about a third of its original viewers, and it never made it to a second season, leaving fans pondering the season-ending Cliffhanger. Zap2It declared FlashForward the most missed show
after a poll determined that 46.3% of voters would miss it the most (by comparison, the runner-up, Ghost Whisperer, had 17.1% of the vote), and there were rumours that Starz might pick the show up for a second season, but it appears this has come to naught.
---
This show contains the following tropes:
Benevolent Boss: Though he does not allow himself to be taken advantage of, Wedeck really cares about his employees. He most definitely comes off as A Father to His Men after

Janis

is shot, and sheds sincerely touching Manly Tears when

Al Gough kills himself

.
Berserk Button:

Agent Noh and Olivia Benford do NOT care or want to hear what your flashforward was about, because

neither of them want theirs to happen.

Demetri also REALLY doesn't like it when people tell him that he can't fight fate.
Don't accuse anyone of blabbing secrets to Olivia.
Simon is capable of anything when someone tries to manipulate him into doing something he doesn't want to do.

Even murder.

Aaron does NOT like people messing with his daughter.
Call Mark a failure, question his self-belief and he WILL try to end you.
Mark's pistol, the one that

was even predicted to murder Demetri Noh on March 15th

.

Dyson Frost's white queen, which contains the ring he used to stay awake during the blackout.
A Day in the Limelight: "Believe," which focuses solely on Bryce Varley and his Asian girlfriend Keiko in their quest to find each other.
Dramatic Irony: The episode "Let No Man Put Asunder" begins with

a flashback of Demetri, Marcie, Janis and Al's first day in FBI. Mark greets them with a speech about how they're going to give their lives to people who might not even know them, at which point the camera focuses on Al.
Enhance Button: Defied and lampshaded - even the NSA couldn't reconstruct a face from a blurred security camera picture under a month.
Evil Brit: Simon seemed to be this initially as he claims responsibility for the Blackout, but then in "A561984" he starts co-operating with the FBI, and his claim is thrown in doubt when he reveals he had no knowledge of the pylons in Somalia. He was (albeit unhappily) working with the people responsible for the blackout as The Mole.
False Reassurance: Inverted: A Nazi war criminal is able to secure his release from prison by telling the main characters that, in his flashforward, a murder had been his "Get out of Jail Free" Card. Once the paperwork had been filed, he then told them that he saw a dead murder of crows outside his window when he came to.
Fanservice:
Fauxshadow: Did anyone else think, based on the contents of his vision, that

Vogel

had to be The Mole, until it turned out to be someone else?
Flat-Earth Atheist: Several people are shown to be skeptical of the flash forward despite overwhelming evidence to the contrary, calling them meaningless "visions" and getting angry at people who are considering the visions as true just in case because they could possibly save lives. Explained in that these characters were shown to have really awful futures they don't want to be true.
Foregone Conclusion:

December 12, 2016. The End.

Whatever that would have meant.
For the Evulz: Generally assumed to be the motivation of the people who caused the global blackouts

and is planning on doing it again,

at least until their motivation becomes more clear.
A God Am I: This is Simon's viewpoint on the fact that

his experiment maybe caused the blackout.
Ironic Nursery Tune: The second episode opens with "Ring Around the Rosie" and images of children lying completely still on the ground. Later on, the fake D. Gibbons has dolls which also sing the song. It's creepy.
I Want My Beloved to Be Happy: Between Mark and Gabriel in "The Negotiation".
Karma Houdini:

Anyone involved in the global blackout apart from Dyson Frost, who's dead, and Hellinger, who's still in FBI custody as of the end of the series. Alda Herzog and Evil Pet Shop Lady are still on the loose, and no one apart from Aaron even knows about Jericho's involvement.
Left the Background Music On: A trumpet player in the foot chase scene in "Black Swan".
Lucky Translation: The

"murder of crows"-pun

only works in English. Luckily for the international dubs, the

crows

were technically murdered. This way, the old Nazi's deception revolves around

the fact that the murder-victims are not human, as opposed to the meaning of the word "murder"

.
Mind Screw: You may have a tough time in the first episode differentiating the flashforward from the real world if you start watching when it happens.
Oh, Crap!:

When Demetri's fiancee realizes

that what she saw wasn't a wedding, it was a funeral.
Mark can turn into this if you talk about his daughter in a way he doesn't like.
Prophetic Fallacy: A constant as people can misunderstand what their visions truly mean.

Bryce sees himself with an attractive woman in what appears to be Japan. He flies to Tokyo and spends weeks there to no avail so thinks the vision was false. We then see it from her point of view...showing it was a Japanese restaurant in L.A. all along.
Olivia is at first relieved when Lloyd doesn't recognize her and thinks the vision of them together must have been wrong...not knowing that Lloyd's vision had his back turned to Olivia so doesn't grasp this is his future lover.
The Vice-President insists she will be President as she saw herself sitting in the Oval Office in six months. In the finale

she isn't and was just sitting there for an unrelated reason.

The most dramatic is how Zoey insists Dimitri is wrong that his seeing nothing means he's going to die as she saw herself in a white dress on a beach with Dimitri's family there and thus, it was their wedding. Then she discovers that

in the Korean culture, white is the color of mourning...
Red Shirt Army: The Red Panda escorts. They even lampshade it, when the Somali warlord explains that the purpose of the Red Panda guys was to die in order to intimidate the hostages.
Red String of Fate: Three characters (Bryce, Keiko, and Olivia) see themselves in love with someone they haven't met yet in their flash forwards leading two of them (Bryce and Keiko) on a quest to find each other and Olivia doing everything she can to avoid her apparently-fated love interest. The recurring question of fate versus free will is never really resolved and it is heavily suggested that Olivia avoiding her match with Lloyd might actually doom the entire world.
Remember the New Guy?: Hey guys, remember Marcie?

You know, the mole?

Her motivator was that - as a wallflower - nobody ever paid any attention to her in the first place.
The Reveal:

Simon

is Suspect Zero.

Marcie is a mole.

The twist is that so is Agent Janis Hawk.

A double twist is that Hawk is actually working for the CIA as a mole in the organisation of whomever wants her as a mole in the FBI.

Ring of Power: A set of seven rings worth killing for in "Playing Cards With Coyote".

It turns out they were what kept people awake during the blackout.
Nicole Kirby's mother spends her spare time gluing pennies to the wall in one room of her house. All of these pennies are from the year Nicole was born.
Timey-Wimey Ball: Some of the events in the flashforwards were themselves caused by the flashforwards (see above). However, apart from a throwaway line mentioning a party in Times Square, none of the visions show any awareness that this was the moment they all foresaw.

And now someone has apparently died despite the fact that he was alive in his flashforward.

Token Minority: Mostly averted, as there are three of the six regular cast members playing FBI agents are black, as is Demetri's fiancee. Lynn Whitfield and Gina Torres have also appeared. Still only one Asian regular, but he's co-lead and has been getting Character Development, so...
Took a Level in Badass: Aaron Stark, in "Blowback,". When his daughter is kidnapped by Jericho, he proceeds to beat information out of the mole, tap the phone in the head honcho's house, and leave the mole TIED UP AND HANGING FROM THE CEILING in the Big Bad's house...with "Happy Birthday" written on his chest.
You Are Too Late:

In the finale, Lloyd and Mark discover when the second blackout will take place. Unfortunately, it's due to happen just minutes from when they found out, so they're unable to stop it.

You Can't Fight Fate: They're not sure if this is true yet, but it looks like it might be.
You're Insane!: Demetri to D.Gibbons in "The Garden of Forking Paths". Gibbons' reply: Most oracles are.
---