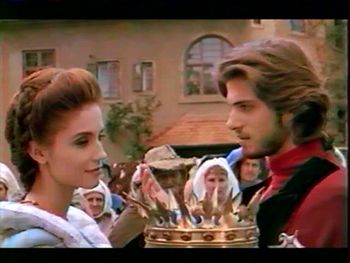 True love is never ridiculous.
An Italian live-action series of the 1990s, of romantic fantasy, loosely based on the Italian folktale Fanta-Ghiro the Beautiful.
Princess Fantaghirò is the third daughter of a king, who bemoans never having had a son. But Fantaghirò (Alessandra Martines) is as if she were his son, actually: she loves fencing and fighting. In the first film, her kingdom is at war against the nearby country. It's resolved when Fantaghirò and Romualdo, the heir of the other kingdom, fall in love. Then in the next movies, Fantaghirò will fight a black queen, a dark sorcerer and his mother, and the emperor of evil. And sometimes, she has to save/find Romualdo.
Broadcast in several countries (Italy, France, Germany, Spain, Poland, etc.), especially near Christmas. The fans think that it was ruined by the fifth film (the ending, in fact) in 1996, even the director Lamberto Bava has said he wishes could shoot another sequel to correct it. Too many years have passed, unfortunately, unless they decide to recast.
Lamberto Bava shoot others TV movies which were also Romantic Fantasy: Desideria, The Princess and the Pauper and Princess Alisea.
---
Fantaghirò provides examples of:
---