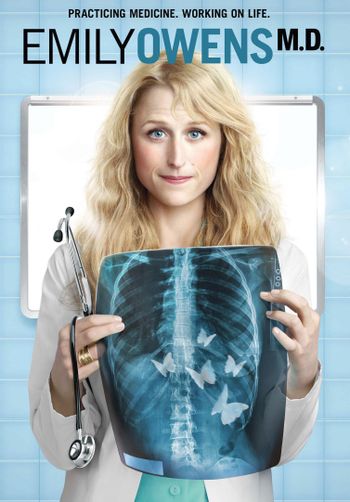 Emily Owens, M.D. was a Live-Action TV series that aired on The CW in 2012 and 2013. Often described as Medical Drama meets Mean Girls, this is a story of a young intern, the titular Emily (Mamie Gummer), who comes to work in a big hospital and gradually realizes that being an adult is much less different from being in high school than one might expect.
Despite being quite short-lived (only 13 episodes were aired), this series managed to gain some fans. It was praised for good acting and overall realistic, down-to-earth atmosphere.
---
Emily Owens, M.D. provides examples of the following tropes:
Character Name and the Noun Phrase: Titles for the series follow this format.
Crazy Cat Lady: One patient is a hoarder who has about ten cats. She has serious infection which she caught from her wounded arm. When her daughter tells Emily about her life and how she unsuccessfully tried to help her, Emily realizes that the woman might have toxoplasmosis that changed her personality.
---