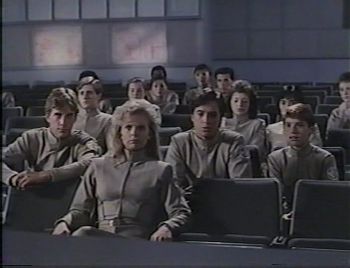 "What is this? The Good Ship Kindergarten?"
— Captain Jacob Dryden Brown, upon meeting the crew of the Earth Star Voyager'
Earth Star Voyager is a Pilot Movie that originally aired as a 2-part miniseries on ABC's The Disney Sunday Movie in January 1988. It focuses on a group of over-achieving young people from a late 21st century Crapsack Earth as they trek through the stars to find a new home for the human race. Along the way, the crew has to deal with the usual dangers of TV space travel, along with the drama and awkwardness typical of being a teenager or a young adult on television.
Soft on the Mohs Scale of Science Fiction Hardness, as considerable Artistic License is taken with the science, no doubt to keep the show accessible to its younger viewers.
The miniseries was actually nominated for two primetime Emmys for sound editing and sound mixing.
Even though the series was never picked up, the miniseries has developed a small but vocal fanbase. Disney almost refuses to admit that this miniseries ever existed, so don't look for an official DVD release (or any kind of release, for that matter). If you look hard enough on the Internet, though, you should be able to find a copy.
NOT to be confused with that certain other TV series named Voyager (which is probably a contributor to Disney wanting to bury the nascent series in the long term).
the cast included
Brian McNamara as Jonathan Hays, Command Specialist: Age 21.
Jason Michas as Jessie "Beanie" Bienstock, Computer Sciences: Age 14.
Julia Montgomery as Dr. Sally Arthur, M.D., Space Medicine: Age 24.
Tom Bresnahan as Huxley Welles, Navigation: Age 18.
Dinah Gaston as Lani Miyori, Communication: Age 16.
Margaret Langrick as Luz Sansone, Communication: Age 15.
Bruce Harwood as Dr. Leland Eugene, M.D., Psychiatrist: Age 22.
Duncan Regehr as Jacob Brown, Former Commander, Vanguard Explorer: Age 36.
---
This show provides examples of:
---