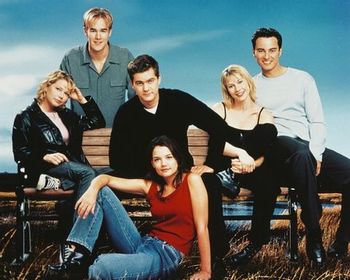 "I don't want to wait... for our lives to be over!
I want to know, right now, what will it be...
I don't want to wait... for our lives to be over!
Will it be yes or will it be sorry?"
- "
I Don't Want to Wait
", written and sung by
Paula Cole
The reigning Teen Drama of the late 90's/early 00's. Revolved around a bunch of teenagers who live in the small fictional town of Capeside, Massachusetts.
The eponymous Dawson Leery (James Van Der Beek) is The Idealist and The Movie Buff with a long-standing platonic friendship with The Cynic Josephine "Joey" Potter (Katie Holmes), the girl from the wrong side of the tracks, whose Disappeared Dad and Missing Mom have left her and her older sister Bessie (Nina Repeta) running a restaurant by themselves. When not attending high school, Dawson works in a video-rental store with Book Dumb Bromantic Foil Pacey Witter (Joshua Jackson). When the elderly Evelyn Ryan (Mary Beth Peil) ends up hosting her granddaughter, Jen Lindley (Michelle Williams), a New York Hard-Drinking Party Girl who Really Gets Around and was sent away to break her of her habits, Dawson's life gets thrown for a spin. Add to this the shaky marriage between his parents Mitch (John Wesley Shipp) and Gail (Mary Margaret Humes), and we have all the ingredients for a Coming of Age Story. Later additions to the starring cast include Tall, Dark, and Handsome Naďve Newcomer Jack McPhee (Kerr Smith), his Cute Bookworm sister Andie (Meredith Monroe), and Genki Girl Audrey Liddell (Busy Philipps).
Its gimmick was to show teenagers as well-spoken individuals with vocabularies that would make Calvin dizzy, rather than resort to the usual TV teenspeak. Fans of the show praised its respectful portrayal of how teens talk and think. Others were less enthralled by the characters' habit of twisting every minor thing into a soliloquy on life's mysteries. It was also accused, especially at the time, of being obsessed with sex, though it's fairly tame today (which may or may not prove aforementioned accusers correct).
Everybody can agree on one thing, though. No other works of man, past or present, can ever top the maudlin madness of Dawson's Creek. The show inspired such passionate feelings that it indirectly spawned Television Without Pity, which was originally named "Dawson's Wrap".
Famous both for its actors being much older than their on-screen counterparts and the infamous Dawson/Joey will-they-won't-they storyline. Also a notable example of the Fan-Preferred Couple getting together in the end.
Also has the distinction of being the final thing to ever be aired on The WB before the launch of The CW. The end credits for the pilot, in particular, were literally the last thing to be seen on The WB, not even a promo or The WB's standard Credits Pushback.
---
I don't wanna wait, for these troooopes to be oveeer:
---