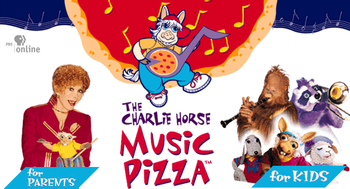 The Charlie Horse Music Pizza is a short-lived spinoff of Lamb Chops Playalong that ran on PBS from January 5, 1998 to January 17, 1999, with infrequent subsequent reruns until late 2000.
Like the former Lamb Chops Playalong, creator/puppeteer/ventriloquist, Shari Lewis, served as the show's anchor, and also featured her puppet creations Lamb Chop, Hush Puppy, and Charlie Horse. In this series, Shari is the owner/operator of a beachside pizzeria, named after Charlie Horse, and also employs an ensemble including Junior - a teenager who does a few odd jobs for the Music Pizza, Takeout - an anthropomorphic orangatan who makes deliveries, and Cookie - the Music Pizza's resident cook. The show's main educational goal was music, and each episode would focus on one or more themes of music education, whether related to vocals or instruments.
The series abruptly ended after just 23 episodes. The show had only taped three episodes of the second season before Shari Lewis was diagnosed with cancer in June 1998 and started chemotherapy. Sadly, she passed away on August 2, 1998, after which the show was officially cancelled.
---
This series provides examples of:
---