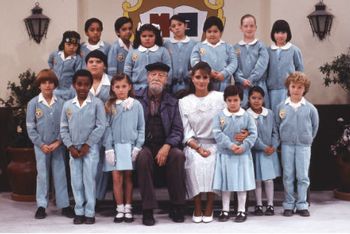 Carrusel (Spanish for "Merry-Go-round") is a popular Mexican Soap Opera that aired during 1989-1990. It revolved around a teacher and her 2nd grade class. Remake of the Argentinian soap opera Señorita Maestra ("Miss Teacher")
This show features examples of:
Brainy Brunette:

Valeria is a good student, but more regarding her artistic talent
Carmen is great both in academics and people skills.

Catchphrase:

"Me hierve la cabeza" ("My head is boiling") by Jaime.
"No, yo decia" ("Just saying") by Cirilo
"How horrible!" by Bibi.
Defrosting Ice Queen: Maria Joaquina becomes way friendlier as the show progresses.
Dumb Blonde:

Averted. Maria Joaquina is very intelligent and does well in school.
Averted. Rene is a talented musician and good teacher.
Fiery Redhead: Averted. Both Daniel and Bibi are levelheaded and do not have hot tempers.
Friend to All Living Things: Mario Ayala had a pet German Shepherd, as well as a rabbit. Do NOT try harming them.
Generic Guy: Adrian Garcia, who gets a name, but no defining characteristics, or plotlines. Viewers do not even get to see his family. But at least Adrian has a name- as compared to two other boys and one girl in the classroom who remain nameless throughout the entire show. The only thing he's recalled for is for yawning loudly during the OP sequence.
Gentle Giant: Jaime Palillo may have been big and strong, but was always in a good mood and friendly towards everyone.
Generation Xerox: The parents of the kids often were very, very similar to their children. For example, both of Valeria's parents are short, slim, and use glasses, and both of Jaime's parents were tall and heavily-built.
Girlish Pigtails: Laura Quinones wears this hairstyle and is a girly girl.
Hot Teacher: Ximena Fernandez. More than one boy has a crush on her- even though she dresses conservatively.
Plot Hole: When Valeria sneaks out the baby girl nicknamed Pelusita, she asks her friends Laura and Jaime for help with sneaking her in to the abandoned house where La Patrulla Salvadora meets. They are just two of her friends... why just the two of them? Why not her boyfriend David, if they were not broken up at the time? To a not so obvious extent- why not Carmen, Marcelina, or Alicia, since they are all prudent girls who would have been just as helpful?
Plucky Girl: Carmen Carrillo. Her parents had separated (but only for a short time- they do get back together promptly) and her family was poor. Yet Carmen always managed to be an excellent student and to stay out of trouble- mainly because she wanted to obtain a scholarship to go to college and have a career.
Red Oni, Blue Oni:

Valeria is the Red Oni to David's Blue Oni, since Valeria is more outgoing, melodramatic, and hyperactive, while David is calmer and more introverted.
Pablo is the Red Oni to Marcelina's Blue Oni, since Pablo is so bold and fearless while Marcelina is much quieter and subdued.

Sadist Teacher: Sra. Orraca. Everybody was afraid of her — except her pet student, Jorge.
Sibling Yin-Yang: Loud, hyperactive, prankster Pablo vs. shy, quiet, sweet Marcelina.
Spoiled Brat: Maria Joaquina, since her wealthy parents are nice and reasonable and do not spoil her, but she acts snobbish at times.
What Happened to the Mouse?:

Carmen has a younger brother shown in early chapters, but he is not really shown anymore.
Valeria has a newborn baby sister who is part of a big storyline- but later does not show up much. Also, Valeria's cousin Aurelia was part of a big plotline but does not return later.
The Brazilian remake Carrossel 2012 features examples of:
---