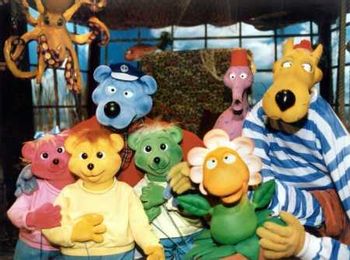 Käpt'n Blaubär (Captain Bluebear) is a hybrid puppet/animated show created by Walter Moers as a recurring segment for the German Edutainment Show Die Sendung mit der Maus. It stars a blue bear who is a retired seaman, living on his beached ship with his three grandchildren (one green, one yellow, one pink) and his old first mate Hein Blöd.
Every episode starts with a puppet sequence, during which the Captain's grandchildren usually discover a strange object on the cramped ship which they start to ask their grandfather about. When he starts telling the story behind the object, his tale is shown in an animated sequence, often switching back to a puppet sequence when the grandchildren add their opinion on the tale. Almost every episode starts with a ridiculous premise about transporting a cargo of Visual Puns, and it usually gets crazier with every passing moment. Usually an episode ends with the grandchildren accusing their grandfather of just having made everything up.
Kapt'n Blaubär has been adapted into other media; in 1999 he starred in Walter Moers' first novel of Zamonia, which told of his youth (and which was later on adapted into a stage musical, and the same year there was also a full-length animated movie that focused on the present-day Blaubär and his fight against his archnemesis, Prof. Dr. Feinfinger.
---
The Captain Bluebear TV series provides examples of:
---