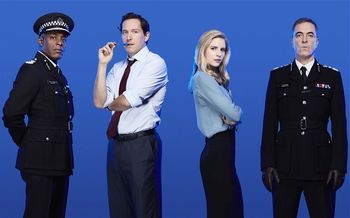 Richard Miller: We have to change and stay the same.
Liz Garvey: That's obviously impossible.
Richard: Oh, yeah, it's impossible. No one tell you that at the interview? It's definitely fucking impossible.
Babylon is a 2014 Channel 4 satirical Dramedy written by Sam Bain, Jesse Armstrong, and Jon Brown, with Danny Boyle as executive producer. In the U.S., it aired on Sundance TV, sans pilot. The show focuses on two aspects of London's Metropolitan Police Service - the ground forces and the PR department - and how they relate and come into conflict in the Internet-era.
Newcomer Liz Garvey is appointed Head of Communications by Commissioner Richard Miller. Liz believes the Met should adopt a policy of transparency, and Richard is interested in giving her ideas a try. However, she faces opposition from the more traditional members of the police, as well as dissenters within her own department.
On the ground, officers from Specialist Firearms Command and the Territorial Support Group struggle to do their jobs amidst personal drama and increasing public scrutiny. To round things off, young director Matt Coward films the cops for what's meant to be a documentary portraying them in a positive light - but he has bigger plans...
Head here for the character page.
Not to be confused with Babylon 5, Babylon Berlin (which has some similar themes), the Japanese novel series Babylon, or the Damien Chazelle movie Babylon (2022).
---
Tropes:
---
"Do I need to read you the Riot Act? The last line is 'do not restart the fucking riot'!"