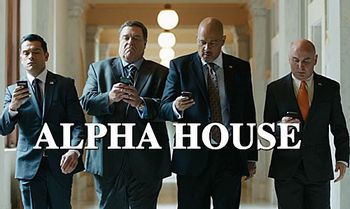 Alpha House is a Prime Video original series created by Gary Trudeau.
It is a Sitcom about four Republican U.S. Senators sharing a townhouse in Washington, D.C.. Gil John Biggs (R-NC) (John Goodman) is a former college basketball coach who sees the Senate mainly as an easy paycheck and never-ending parade of perks; Robert Bettencourt (R-PA) (Clark Johnson) is a bigshot in the party establishment who concentrates on getting big campaign donations while under investigation by the Ethics Committee; the fastidious Louis Laffer (R-NV)(Matt Malloy) is a devout Mormon who is likely a closeted gay man, while Andy Guzman (R-FL) (Mark Consuelos) is a Marco Rubio Expy at first glance until we discover the size and extent of his libido. The show was released as a Web Original on Amazon Prime, with the first three episodes free. The show was Amazon's first foray into original programming, with it being the first of five 'pilots' that Amazon commissioned to series to debut online.
Surprisingly, the show is actually based on a real house in DC where politicians (Democrats in this case) live when Congress is in session
. Unlike the house on the show, "Omega House" is much more run downnote and the kitchen is stocked almost exclusively with cereal and beer and the residents don't hang out because of their different schedules. It's even been burgled a few timesnote the place is so shabby that nothing was ever stolen Hilariously, though, Senator Chuck Schumer (D-NY), one of the most senior senators, really does sleep in the living room like Gil John does on the show.
The series has received favorable reviews, and was the first of Amazon's shows to be renewed for a second season. Amazon, as of August 2015, has not yet decided if there will be a third.
---
This work contains examples of:
---