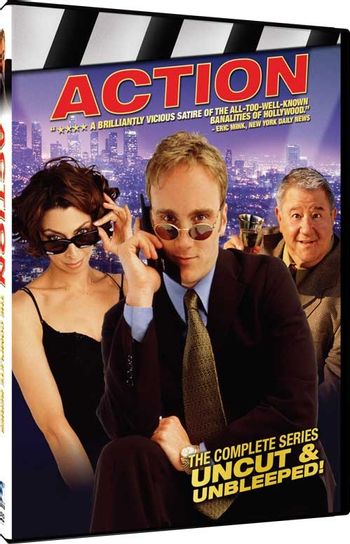 Action was a short-lived Fox series (September-December, 1999. One further episode was broadcast in August, 2000).
This series starred comedian Jay Mohr as ruthless movie producer Peter Dragon, who's just had the biggest bomb of his career, and is now trying to get his comeback movie, Beverly Hills Gun Club, made. Not an easy task. Helping him is his new partner, Wendy Ward (Illeana Douglas), and his Uncle Lonny (Buddy Hackett). Also, there are Peter's assistant, Stuart Glazer, and the film's irritable, unsavvy writer, Adam Rafkin.
Together, they deal with prima donna actors, crazy directors and the arrogant studio head, Bobby G, who also happens to be Peter's ex-wife's current husband.
---
This TV series provides examples of:
---