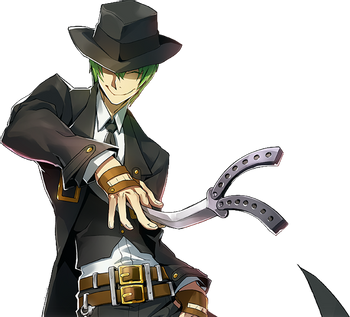 (This page is best read using the voices of either Yuuichi Nakamura, Erik Davies or Doug Erholtz. Pick your poison.)
(As you enter the page, a man in a suit and fedora walks in with this
playing)
Oh, whoa! Why, hello there Tropers! So apparently there's this trend of this site having pages of a character described by themselves. I mean, seriously? Some overconfident roleplayers? And they don't even have any pages for BlazBlue characters? Oh dear, that is quite troublesome, isn't it? Not to worry, because I'm the first guy to do so. Though I'm not really that good in trope-describing so I hope my description can be of much use.
Wait, am I forgetting something? Aah, right, where are my manners...
My name is Hazama...or Hazama Honoka for the full name. Uh, wait, is the page titled 'Yuuki Terumi'? Ah, fret not, that's just one of my aliases, really. I'm just your average mild-mannered head of the Information Division of Novus Orbis Librarium, or NOL. I like swallowing eggs. And, uh... what else... I guess I'm pretty distinctive that I have my Eyes Always Shut. Charming, isn't it? Like that... Soul Reaper dude? Well it may give the vibes of being untrustworthy, but really, I'm just as trustworthy as you can get! I also happen to be blessed with really smooth voices. Also, I guess my fedora is pretty distinctive, I've been gettin' a lot of comments that say I'm a pimptastic fella. Oh heavens, I'm so not worthy for this.
I don't like lies and... ahem... shitty vampires... Uh, wait, hold a sec, time out, Troper. I think I need a bathroom break. I'll be right back! Toodles!
---
(Later)
---
Click to see my original form as Susano'o.
(Suddenly, a man in a yellow hoodie marches in with this
playing in the background)
So, waited your sorry ass too long, eh, Shitty Troper? What, expecting that 'mild mannered officer named Hazama'? HAAAHAHAHAHA!! As expected from shitty tropers like you, you just ate that bait! Behold, the greatest thing to ever embrace this existence, me, this grand self of mine, Yuuki Terumi! In other words, Hazama is just one of MY aliases, or literally a simple doll that acts as my front! Got that through your shit-for-brains yet?
Believe it or not, I was actually counted as the legendary Six Heroes, but that was because they brainwashed me to destroy my destructive creation, the Black Beast. But thankfully, I managed to turn that one around... by backstabbing one gullible idiot glassed girl and her fiery sorceress pal then tossing them to the Boundary, and requiring that armored freak Hakumen to seal me into the Boundary together with him! Well, that's a way to go, but I managed to come back anyway, so sucks to be you Hakumen!
What was that, origin? Why was I this evil? Do you shitty tropers seriously believe that is necessary!? I don't need a fucking backstory to make myself great! I'm evil, I like it, done! Okay, fine, I also get more powerful with hate and will exist as long as people hate me, but seriously, who cares about why I'm like that? For the Evulz is enough motivation for me! Well... I'm in a good mood today, so I'll tell you this much. I used to own the Susano'o unit before Major Dumbass got his grubby little hands on it. Back then I was known as the Black Susano'o (or the Dark Susano'o if you prefer). It was all well and good but... things didn't really work out between me and the master unit, the damned suit was bound to it. So I decided to give it to Relius and his pal once I was done with it, but the damn vampire and her father snatched it from me before I could give it to him. Well I was going to get rid of it anyway so no big loss for me.
Oh and you're still asking what was I like before shit went the drain between me and the master unit? Well how about I've been evil from the beginning!? Do I even need reasons or a Start of Darkness? Well, nope, that's for pussies! And obviously, I am not.
I first appeared as an NPC in the first game, BlazBlue: Calamity Trigger, with that persona above. And what do you know? Stupid heroine Noel Vermillion never batted an eye and think of me as a completely trustworthy dude! It's only after the end of that game I reveal myself, not only as my magnificent self, but also the guy who cut down Ragna's arm and possessed Jin for good measure! And in case you don't know, I am the one behind everything bad that happened throughout the series, and still on the roll! Great accomplishment, huh? And I already got my fans based on that and my radiatingly good look. Not unlike you shitty beings.
And the next game, I finally cement myself as the Magnificent Bastard of the series. See, throughout the game, I kept manipulating things, such as eventually putting through that Tsubaki Yayoi girl into emotional torment to the point of going against Noel due to jealousy of that Jin, and even played through the emotions of that big sack of tits Litchi Faye-Ling to abandoning her good alignment to join me. And you know who gets the blame! Them of course, for not realizing how much I am Obviously Evil and should not be trusted! You do agree with me with this one, right, shitty tropers? They're the ones crossing the line to become unsympathetic idiots, I was just offering information!
But seriously, those are small timers, when compared to the fact that I suckered a nigh-omnipotent supercomputer, Takamagahara, that views all timelines to get the outcome I want! Because magic is awesome, provided by this pal of mine, Phantom, who is actually a corrupted version of that Nine, who used to enslave me, but now she's my bitch! Oh wait, there's also Colonel Relius Clover, but he's kind of a nagging guy so I'm not THAT fond of him either.
But all of this wouldn't be possible if I am not this much of a total badass who can own everyone like breakfasts, just my daily activities like how I crossed the Moral Event Horizon about fifty times at that time of the day! I mean, really, I'm the creator of that Artifact of Doom you call Azure Grimoire! The real one, not the fake one Ragna wields, See that? I accomplish all those, thus cementing you guys to be total suckers who are like worms before me!
And even in my defeat, I still get what I wanted! That Ragna, defeating me? There's still someone who can kill me to infiltrate Takamagahara, that Colonel Clover! And regardless of that, I also shot that stupid 'friendship' message to hell with Tsubaki's corruption, and also that 'compassionate' message by getting Litchi to join me! You know what this means... 'Good' Is Shitty And Just Tools To Manipulate! And I even showed Ragna that I'm not even the final boss for him, it's actually his sister Saya, the Imperator of NOL, manipulated by none other than ME! GYAAAHAHAHAHAHAAA!!!
Wait, what do you mean "extra rounds"? Well, fine... but you owe me for this, shitface. There's that one time when my plan went FUBAR because some goddamn squirrel just landed in the middle of my plans. That rodent is... well, my supposed 'subordinate' in the Intelligence Department, Makoto Nanaya. Seriously, that bitch just popped unexpected and her insistence just RUINED my plan, and then that shitty vampire just pulled her under my rugs! She seriously lives to cockblock my plans... And that plan is goddamn ruined! *deep breath* Oh well, I can try again. Flukes don't happen twice, and by my glorious self, it's RIGHT! You see, goddamn squirrel? Yes, I'd enjoy killing ya, but overall, you're just an insignificant worm!
And then BlazBlue: Chrono Phantasma rolls around... grrr... Oh, what was that, you shitheads are delighted seeing me grumbling? Well just you wait...
In that game, things really got kind of... unpredictable, seeing that they brought in a seithr-surpressing being called Celica A. Mercury, to shut me down. But let's be honest, since when did that stop me? Still by the end of it, Hakumen caught up to me and seemingly killed me off using this mumbo-jumbo called 'Time Killer' and apparently, that Saya plans to ditch me because she's the Goddess of Death Izanami note as in old, rotting, putrid, burned-in-the-lady-parts Izanagi. The reason she chose Saya as her vessel? Young, supple, pure, and a vag that doesn't look like a clam that was cooked with white phosphorus, C4, and napalm.. Welp, enjoy your happiness now, shitty tropers! You actually won! ... Except did you know that I also killed Platinum the Trinity right before dying? Greatest candidate of BlazBlue scrappies anyway, so who gives a shit yet she comes back for Central Fiction like a damn cockroach and killing her was a very, very bad idea. Now I know how the duck, the coyote and the Martian felt. Oh and your victory is just as hollow as it was when Ragna seemingly defeated me, Izanami's plans haven't been slowed in the slighest. Oh and that is not the last game of the series, and I already built up a strong fanbase, so Arc System Works isn't going to kill me off like that lest they incur the wrath of the fans. That means... I'll be back next game...!! So much for killing me, eh, Hakky? I also heard a lot of people complain that you just got reduced into a walking Deus ex Machina just to 'get rid of me'. Feels like it's worth it? HAAAHAHAHAHAHAHAAA!!! Hey old bag, enjoy that Big Bad seat's warmness, because I'm coming back to reclaim it! Goddess or not, nobody pulls a fast one on Yuuki Terumi and lives! And I also can't wait to take on those new chumps. And wouldn't you know it Arc System Works decides to make the walking hairball factory note Jubei, a.k.a. Kokonoe's dad and Nine's mate. The sex was probably agonizing. a playable character right after main story ended.
Still, even if that fails, I'm popular enough that I'm pretty much guaranteed to land in any crossover with this series and The Adventures of Proto-Ragna, and you better believe I've made my list and checked it twice. Speaking of proto-Raggy, I'm very sure that I'll sucker him all the way to Pluto just like Raggy over here! Though Witch-Tits informed me that Proto-Ragna is smarter than he looks and it'd be easier to dupe his sidekick Burger Boy who's the son of King Proto-Jin and his EIGHT-YEAR-OLD WIFE?! I don't care if she does age faster than humans, that's thirty-one flavors of WRONG! And they call me evil... Wait, that eight-year-old wife is basically Proto-Noel? Oh, I am SO going to enjoy breaking her! Waitaminute *sniff sniff* I smell guano. They have a shitty vampire who's older, stronger, faster, smarter, and better?! You have got to be shitting me! Just to be safe, is there a proto-rodent? Hm... well, there's this little girl with massive strength, carrying an anchor, serving something of proto-pussy Colonel (that's Kagura Mutsuki, by the way), I shouldn't worry about her. The rest... eh, they're all pussies, I shouldn't worry about them. So there's a new game coming out and it involves other fighting game series? I can't wait to crush...what the fuck are they doing here? Do you idiots at Arc System Works have the slightest inkling of what you wrought by bringing those...godkillers?! I am so glad that I'm already dead, AND Hazama and the Hag are taking the bait first! Fuck me, my Susanoo self has been chosen for Cross Tag?! Well let me assure you godkillers that I will be no easy win!
Everything I do, it's all for shits and giggles to kill boredom, because misery is interesting, as well as forcing this upon your mucus-filled heads: This world is nothing but LIES LIES LIES LIES LIES!!! The only truth there is DESPAIR!! Yeah, I'm the only one who thinks like that, but because I'm just that awesome, that better be the accepted norm.
And indeed, my awesomeness has creeped into this site, I am also this site's God of Trolling and Absolute Immorality! What was that, Bernkastel usurped my throne? That was just a minor setback, my power of mainstream popularity will brought me back to my righteous place! Or maybe it's because one of the participants kinda enjoy making me his Butt-Monkey... Ooh no, that won't do. You do realize that if I come right there, I could whip your ass easier than stealing a candy from a baby, which I would do with gusto?
Bottom line, I am Terumi, I am the Black Susano'o, and you are all suckers before me. So before I off you like the shits you are, then you better check out the tropes sections!
These tropes define this radiant self of mine!
---
This wiki is nothing but lies lies lies LIES!!! Allow me to show you all the only truth, the truth called DESPAIR!!