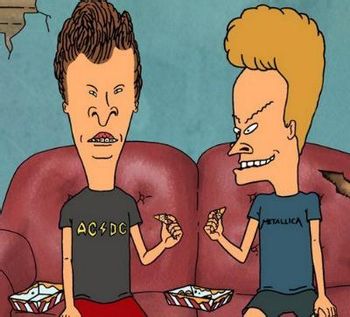 (Beavis and Butt-Head are not real. They are stupid cartoon people completely made up by Mike Judge, whose voice you should be hearing right now. Beavis and Butt-Head are not role models. They are dumb, crude, thoughtless, ugly, sexist, self-destructive fools, but for some reason, the little weinerheads make us laugh. Some of the tropes you see below would cause a real person to get hurt, expelled, arrested, and possibly banned by the admins. To put it another way: Don't Try This at Home.)
Some intro rock music plays amidst an exchange of "Uh huh huh" and "Heh heh heh" laughter. Cut to a sky-patterned title card that reads, "TV TROPES", in a jagged font. As the intro music comes to a close, we transition to a pair of teenagers seated atop a couch.
Hey, Butt-Head, what's "self-demostrating"?
Uh, I think it's, like, where we're able to talk about ourselves and how cool we are, without some fartknocker doing it for us.
Whoa, really?! Heh heh. That sounds pretty cool.
Yeah, huh huh. So, like, he's Beavis and I'm Butt-Head. And we're a couple of guys who hang around, go to school, and sometimes work at Burger World. We also, uh, watch music videos and other stuff, because MTV also got crap like Jersey Shore on. Uh huh huh. So, like, you can read all these tropes about us and stuff. Uh huh huh, tropes...
Heh heh heh heh...tropes.
Hey, Beavis, check it out. McDicker did one of these too. Uh huh huh huh.
Whoa, really? Heh heh. That's pretty cool!
---
Come to Butt-Head...uh huh huh:
---
What the hell is this crap? All they did was make us talk and stuff! Heh heh.
Yeah, huh huh huh.
Whoa! Heh heh. Check it out, Butt-Head.
Beavis notices a conveniently placed stash of soda near the couch. He shotguns several cans in rapid succession. Mere seconds later, he begins to twitch, writhe, and mutter incoherently.
Uh, Beavis?
Beavis continues twitching.
What's your problem? Huh huh.
Beavis stands up, pulls his shirt collar over his hair, and raises his arms.
I AM THE GREAT CORNHOLIO! Heh heh. YOU HAVE AWAKENED MY BUNGHOLE, AND NOW YOU MUST PAY! Aaaaaah. Heh heh. MY BUNGHOLE WILL SPEAK, NOW! Heh heh. YOU WISH TO LEARN OF THE BUNGHOLE? YOU CANNOT UNDERSTAND THE ALMIGHTY BUNGHOLE! Try as you may. Heh heh.
---
YOU WILL GIVE ME ALL YOUR TROPES! AND TP!
---
Uh huh huh. That was cool.
Cue epic rock music sting, which closes the segment.
---