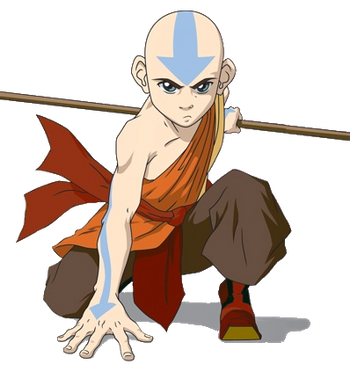 Well, hello there! I'm Aang, the lead hero of the hit Nickelodeon animated series, Avatar: The Last Airbender. In case you don't know, I'll tell you. Long ago, we all live in peace and harmony in a Constructed World in which humans have grown on such a spiritual level, that we are able to control the four elements of the world: water, earth, fire, and air. The world has also been divided into four nations: the Water Tribe, the Earth Kingdom, the Fire Nation, and the Air Nomads. Each nation has developed a spiritual art form to manipulate (aka "bend") their namesake element, but only the Avatar — one person reincarnated periodically into each race — is capable of mastering all four elements. The Avatar's role is to serve as a peacekeeper and protector for all four nations (as well as bridging and balancing the physical and spiritual worlds).
The show's story centers around me, the current incarnation of the Avatar (right after Avatar Roku), and the last Airbender. In it, I have to master the four bending arts so that I can save the world from Fire Lord Ozai and end the century-long war, a war which I accidentally avoided, spending a hundred years trapped in an iceberg after running away from my suddenly heavy responsibility as the Avatar. Ozai's plans for domination are on a specific timetable, though, meaning that I have until the end of summer to stop them.
Thankfully, I found myself in good company with my best friends: cute teenage waterbender Katara and her sarcastic brother Sokka, the two who freed me from the iceberg. As we work to save the four nations with the company of my lemur Momo and flying bison Appa, we gain many more allies, such as the blind earthbender Toph Beifong, and I make many enemies as well, such as the Fire Lord's son, Prince Zuko, his sister Azula and many other people. Thankfully, Zuko saw sense and became my new firebending teacher. And with the help of my friends, I defeated Fire Lord Ozai, and brought peace back to the world. I married Katara, and had three kids, Bumi (named after King Bumi of Omashu), Kya (named after Katara's late mom), and Tenzin.
Sadly, all good things come to an end. I passed away at 66 years old (technically 166). I guess being in that iceberg made my lifeforce weaker or something. A few years after my death, I was succeeded by a girl named Korra, who became the new Avatar.
If you wanna stay behind, then you can read my "tropes" as they put it right down here. I have a lot, so I put them all in folders. If you wanna read them, then you gotta sound like Zach Tyler Eisen (he's the guy who voiced me)note Or D. B. Sweeney, if you prefer my older and wiser voice. I hope you have of fun, though not as much when you're penguin-sledding. And once you're done, you might wanna get your gliders and fly away, since some people say this website will ruin your life. I don't believe them; I'm just supposed to say it.
And by the way, please don't tell me anything about that movie. It made the Ember Island Players look professional. And if you ever meet my friend Toph Beifong, just know that beneath her tough girl act, she actually just wants to run away from her past. It's meeting it and dealing with the scars head on that helps heal the wounds.
---
These tropes sound like fun!
open/close all folders
#-F
G-L
M-R
S-W