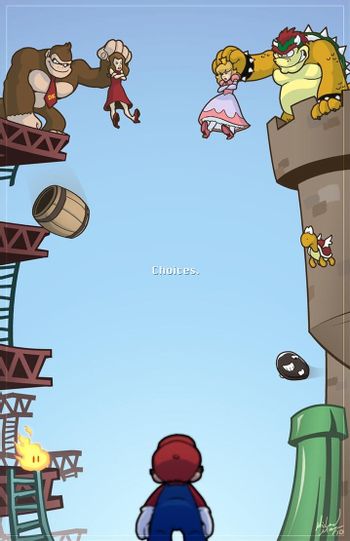 ---
Near the end of Breath of Fire II, you're asked to sacrifice one of your party members in order to get the ultimate dragon power. It's a Secret Test of Character - you pass by refusing to sacrifice any of them.
The Granstream Saga makes the player suffer through a particularly sadistic version of the classic Sadistic Choice. In order to power up your MacGuffin enough to kill the final Big Bad, you have to kill one of your two love interests and let it consume her soul. And, sadly, the game doesn't let you Take a Third Option and try to fight without sacrificing either one.

It's supposed to be the one Eon feels the most for, since the weapon's power is equal to the feelings invested in it.

In Marvel Ultimate Alliance, the player is offered by Mephisto the choice between freeing Jean Grey or Nightcrawler from his realm. The one chosen is saved while the other is dropped into an energy vortex, and later his/her soul becomes brainwashed by Mephisto and aids him in the boss battle following the choice. S/he pulls a Heroic Sacrifice when you defeat the devil afterwards. Bonus points if you have the 360 DLC which includes, yes, Nightcrawler as a playable character.

There's even an easter egg in the epilogue scene,

if the player saves Jean over Nightcrawler. Mystique becomes overcome with grief over her son's death and lashes out by assassinating Professor Xavier

. There's a scene where

the X-Men are attending Xavier's funeral, and one of them is f*** ing NIGHTCRAWLER!

If you save Nightcrawler over Jean Grey, then in the epilogue Jean Grey comes back as The Phoenix and destroys the world. You can't win! The only difference is that Nightcrawler hates you for choosing him over Jean. Jean Grey instantly forgives you, assuring you that You Did the Right Thing. The bitch.
And heaven forbid a player thinks intelligently and try to open both of the cages at once using UA's co-op mode. You will get both bad endings. Both characters "Survived", in that they whined in the safe house. But you will get both of their epilogues together.
If one has Magneto in their party when they have to make a choice, good ol' Maggy Takes a Third Option and uses his powers to break the locks on both cages. Choice averted. Players rejoice.

In Kingdom Hearts II, the villain Xaldin makes Beast (from Disney's Beauty and the Beast) decide whether he wants to save Belle or the Magic Rose that can change him back. Beast chooses Belle, but then Belle sucker elbows Xaldin, saving both herself and the rose.

In 358/2 Days,

Saïx tells Axel he must choose which of his friends will survive - Roxas, or Xion.

As one might expect, he does everything he can to Take a Third Option. It backfires, and he ends up losing both instead. Ouch.

Not so much a Sadistic Choice as being realistic: It turns out Xion's existence as an imperfect clone of sorts means she's leeching power from Roxas in order to survive. And the balance is unsustainable, which isn't helped by the fact that Axel has, well before this point, killed the guy who made her. Saïx is being blunt - Axel can try to delay the inevitable, but at some point, Xion will end up draining Roxas to death if one of them doesn't get killed. Though, it still doesn't help that no one other than Axel actually cares if one of them dies. It's the fact that he makes an effort to bury the knowledge - which one of them finds, and which makes the other one realize how expendable they're being treated, that

makes them both leave.

A minor variant in Super Smash Bros. Brawl, where Petey Piranha kidnaps both Princesses Peach and Zelda. Kirby (or rather, the player) can only save one princess; the other gets nabbed by Wario. This subverts heroic attempts to break them both out in that, while it is theoretically possible to deplete both cages' life bars by attacking Petey Piranha's head, the game picks a princess for you if this is the case. Nice try, hero.

Both end up fine near the end anyways.

In The Legend of Zelda: Twilight Princess, before the events of the game, Zant gives Zelda the choice of surrendering to him or killing her along with all of Hyrule. Zelda decides to surrender.
At least Once an Episode in The Walking Dead.

Episode 1: You have to choose whether to save either

Carley or Doug.

Episode 2:

First, you have to choose between cutting off the teacher's leg or leaving him in the bear trap for the walkers. Second, when trapped in the meat locker, Larry has a heart attack and stops breathing. Since anyone who dies with an intact brain stem becomes a walker, you have the choice of holding back Lilly from trying to revive him so Kenny can crush Larry's head with a salt lick, or trying (unsuccessfully) to revive him. Another one comes just after that, when you have to choose whether or not to spare the St. John brothers.

Worse is that

Larry's revival is not unsuccessful

because you can't get his heart going again; in fact, if the player does CPR fast enough he takes a very deep breath...

Before Kenny drops a salt lick on his head anyway.

Episode 3: Duck gets infected. You either kill him yourself or make Kenny, his father, do it. Later, you have to choose whether to help Omid or Christa onto the train first, but it's subverted since whoever you don't help catches up anyways.
Episode 4: Ben, who's been The Load for almost the entire season, falls off the balcony in Crawford's belltower. You have to either let him go, fulfilling his Death Seeker mentalities, or save him.
Episode 5:

When Lee gets infected, you have to choose whether or not to cut off his arm to slow the infection. At the end of the episode, you either let Clementine shoot you when you're about to succumb to the infection/blood loss, or just tell her to leave you for dead.

The trend continues into Season 2.

The final choice of episode 1 involves risking saving either Pete or his nephew Nick. In a mild subversion, Nick will survive even if you pick Pete, and Pete is killed no matter your choice.

The ending of the fifth and final episode is determined by a very dark Sadistic Choice: you're forced into a position where you have to kill either Kenny or Jane. You're either stuck with a man who very obviously has completely lost his grip on his sanity, and just brutally murdered someone in front of you, or a woman who would endanger a baby's life just to prove that said man was going crazy. Or you can kill one and leave the other, which results in perhaps one of the cruelest cases of No Ending in any video game ever. There are no other options.
In Vince's chapter of the 400 Days DLC, you're chained up to a rational and unapologetic white-collar Con Man, and a humanistic and remorseful rapist. Walkers surround the bus and a shotgun lands in your lap. You can escape with one of them, but it means blowing the foot off the other guy and leaving him to his fate. The question is, which one do you escape with and which one do you sacrifice?
An especially cruel example happens near the end of Season 3. The final choice of Episode 4 has you begging the Big Bad, Joan, to spare one of your friends. You're forced to choose between Tripp, a friend who's been with you since the start that you may or may not have recently fallen out with, or Ava, a new ally who's been nothing but helpful to you and Clementine. What the player probably doesn't know is that whoever you pick dies, and the other isn't too happy that you'd be willing to sacrifice them.

Telltale's Game of Thrones has dozens of these, but the most notable ones from each episode are:

Episode 1:

As Ethan, the new Lord of House Forrester, you must decide how to deal with a thieving deserter. You can send him to the Wall, where he will face a life of hard work, an early death and likely never see his family again, chop off three of his fingers, which you must ether do yourself or ask your sentinel to do for you, or set him free, which angers the people demanding justice and risks making you look like a weak ruler.

Episode 2:

Lord Whitehill, the man partially responsible for the death of Rodrik's brother Ethan, is holding Rodrik's other brother Ryon captive to prevent the Forresters from acting out against him. He agrees to let Ryon attend Ethan and his father's joint funeral on one condition: Rodrik must kneel and kiss his ring. This is worse than it sounds, as Rodrik is in front of his love interest Eleana whom he is desperately trying to keep on good terms with, as well as a number of other people who will likely lose respect for him as a leader if he does so. If you agree to kiss the ring Eleana berates you for submitting, while if you refuse Rodrik's mother is upset as she won't get to see her son.

Episode 3: Asher, along with his uncle Malcolm and best friend Beskha, is fighting a massive dragon when he is put into the position of saving one at the cost of the other. Whoever you chose not to save will, surprisingly enough, survive, albeit with a nasty burn wound courtesy of dragon fire. It still counts as a Sadistic Choice as the player is led to believe that their choice will result in the death of one of the two, and the character not chosen to be saved will berate Asher for this afterwards.
Episode 4:

Beshka, a former slave, finally finds her cruel master after many years and understandably wants revenge. However, she and Asher promised Daenerys that they would not kill any of the masters as it would take justice away from the hands of the current slaves. If you allow Beshka to kill him Daenerys refuses to aid you, but if you stop Beshka she is incredibly angry at being denied her own justice.

Episode 5: Having only just reunited after a number of years apart, Rodrik and Asher are suddenly ambushed by a massive amount of Whitehill soldiers. It is clear that they must flee, but the Whitehills have sabotaged the portcullis meaning that, unless one person is holding it open, it will stay closed. The player is then forced to decide which brother will stay behind and hold open the portcullis, and which will get to escape. The brother left behind puts up a good fight but is hopelessly overwhelmed by sheer numbers, and dies giving his allies time to flee.
Episode 6:

Mira is finally arrested for the death of the Lannister guard back in Episode 2, and is awaiting execution when the man who sent the guard to kill her and unfairly got her arrested comes into her cell. He presents Mira with a proposition: he will frame Mira's close ally Tom for the murder and get her acquitted if she will marry him, allowing him to claim right over her family name, land and all that the Forresters own. Otherwise, she will face death on the chopping block. If you accept his offer Tom's head will roll, but if you reject it, Mira's will.

In Radiata Stories the major branching off point is whether or not the human hero joins the girl and the forces of non-humanity, or stays with humans. This results in two Multiple Endings, one where humanity survives but the girl dies; or humanity is replaced by elves and other creatures but the guy gets to be with the girl.
In the final episode of Desperate Housewives: The Game, your mobster ex-boyfriend gives you a gun and orders you to shoot either your husband or your other ex-boyfriend (long story). Whether you shoot your husband, ex-boyfriend or just take the very obvious third option and shoot the gangster, the end result is the same - the gun wasn't loaded, he was just testing you. That's almost as sadistic as the bad writing enforced on you the entire game.
In LostMagic, Diva of the Twilight holds her own sister Trista hostage for Issac's wand, which is one of the MacGuffins. And no, you don't get a third option. Due to the game's morals, Issac will turn evil and become Diva's subordinate if you decide to hold onto the wand.

Further spoilers ahoy: You still have the wand yourself. But on the evil path, you have to kill off the other sages. When you defeat the last one, if you choose to finish off said sage, you get the Bad Ending where Diva kills Issac. Even if you don't, you still will get a Downer Ending.

OneShot at the end of the game, you have to choose between Saving the World (or possibly just prolonging its doom) while leaving Niko alone on a tower forever, or sending Niko home and dooming the world.
Grand Theft Auto IV gives you a choice of two paths at the end of the game:

You can either choose to participate in a mission with Dimitri, the Russian crook who screwed you over earlier in the game and who you've been trying to kill up to this point, or not participate in the mission and instead go and kill Dimitri. If you choose to kill Dimitri, the mob boss who set up the mission for the both of you will show up at Roman's wedding and kill Niko's love interest, Kate. If you choose to do the mission, Dimitri will send a hitman to the wedding who will kill Niko's cousin and best friend, Roman. Ironically, it was Kate who advised you to go kill Dimitri, while it was Roman who advised you to participate on the mission with him.

Fable:

Fable II ends with you having to make one of three choices: use the power of the Spire to resurrect everyone in your family Lucien killed — your husband/wife, your kids, your dog, even your long-dead sister comes back for a while — or use it to resurrect the thousands that Lucien killed to power up the Spire. Or you can choose to take 1,000,000 gold, but that's both a major dick move and outside the bounds of this trope. It's not quite a Sadistic Choice, as under normal circumstances all of these people would stay dead, but still a good source of angst if you're looking for one.
Another sadistic choice is the one with the Shadow Court, where you have to choose to curse yourself or an innocent girl to a fate of rapid aging. While it has little effect on the game, it would be a rather difficult choice in real life (although, in real life, rapidly aging oneself when one is the only one who can save the world would be foolish).
Fable III gives you one in the first scene: After asking your older brother, King Logan, to spare the protesting peasants, he punishes you by

letting you choose whether he executes your childhood sweetheart or the leaders of the peasants

. What's that? You want a third option? Sure. You can choose to do nothing, and Logan kills all of them.
When you finally take Logan down, you find out he actually had a valid reason for being a tyrant - he had to make money to fight the Darkness. This leads to another rather unpleasant choice, you can A) keep the promises you made to everyone (in which case many of them will be slaughtered when it comes) or B), break them, and save humanity at the cost of becoming as bad as Logan was. There is a third option, but it's difficult and requires a lot of planning, and this is to buy every piece of property you can, and delay the Final Battle until you have enough money from rent to pay the expenses required to fight the Darkness personally.

In the Fire Emblem series:

Fire Emblem: Shadow Dragon for the DS (Marth's game) in one of the early chapters the player has to choose one character to stay behind as decoy, thereby losing the character
Fire Emblem: Radiant Dawn has a rather gripping one near the end of Part 3. Just as Micaiah is about to give the order to fire on the Apostle, Tibarn swoops in and hangs her Bodyguard Crush Sothe over a cliff and gives her an ultimatum: cease fire and retreat or Sothe dies. Micaiah can't retreat however, since it would effectively mean everybody in Daein would die due to the bloodpact. Unable to find a third option, Michiah is helpless as she watches Sothe get thrown over the cliff. Micaiah promptly has a My God, What Have I Done?, until it is revealed to have been a bluff and she calls for a retreat.
Fire Emblem Awakening has one. Chrom must choose between giving King Gangrel the Fire Emblem, or allowing him to execute Chrom's sister, Emmeryn. However, the choice turns out to be irrelevant; either way, Emmeryn will sacrifice herself via willingly throwing herself off the cliff she was supposed to be pushed from by Gangrel, allowing Chrom a chance to escape with the Fire Emblem in hand.

This seems to be a theme in the game, as there are several times where you have to decide one thing or the other, but it usually doesn't have any impact on the story with what you choose, with something else conveniently choosing for you.
In the Final Battle, Naga presents a choice: if Chrom strikes the final blow to Grima, the Fallen Dragon will be resealed but will eventually be waken up in a millenia. If the Avatar does it, he/she and Grima will be destroyed forever because the Avatar and Grima are technically one and the same. The Avatar does ultimately survive in the end, but nobody knows that will be the case when the decision is made.
Lucina has one if she is either the Avatar's daughter or wife. To keep the Avatar from coming under Validar's control and murdering Chrom, she has to kill the Avatar first, but doing so means killing her mother or lover. In the end, she is unable to go through with it, even if it means putting her father in danger. And note it only applied in those two circumstances; if they're not related at all or if they're only in-laws or uncle and niece, she'll have no qualms about killing him/her.

Fire Emblem Fates has one smack dab near the beginning which changes the entire story depending what you pick. The protagonist, Corrin must choose between siding with their blood relatives, the Royal family from the kingdom of Hoshido, or the foster family that raised them from birth, the royal family of Nohr. To compound things, both sides are decent people that love the protagonist very much and Corrin can't choose both sides. No matter which side you pick, the other side will label you a traitor. There's a third path where Corrin sides with neither which ultimately is the Golden Path that leads to the two nations joining forces to defeat Anankos, the Greater-Scope Villain.

This choice is spoofed in a trailer where he's presented with the first three options... Then suddenly a fourth option appears and Corrin chooses that. The choice? To take part in Super Smash Bros. of course! Both royal families are baffled and confused at first, but this gives way to amazement as he (and she) display their battling prowess in the Smash Bros. ring.
The protagonist is faced with a string of Sadistic Choices throughout Conquest, as Garon tasks them with committing a number of heinous actions in order to secure Nohr's victory over Hoshido under punishment of death. Near the game's climax, after defeating Ryoma in combat, Garon tasks the protagonist with executing him. Ryoma saves them from certain death from refusing the order by committing a Heroic Seppuku.

Fire Emblem: Three Houses has one if Byleth chooses the Black Eagles class.

Edelgard will betray Byleth, the Church of Seiros, and her own students at the Holy Tomb, starting a war to realize her ideals. If Byleth attended Edelgard's coronation, Byleth will be presented with a choice: Accept Rhea's orders to kill Edelgard and remain loyal to her and the church, or refuse and take Edelgard's side and defect to her and the Empire

. No matter what the player does, there will be consequences. If Byleth

obeys Rhea and points their sword at Edelgard, she and Hubert will teleport back to the Empire as Rhea curses them in anger, starting the Silver Snow route (consequently, Edelgard and Hubert will no longer be available as they have returned to the Empire)

. On the other hand, if Byleth

disobeys Rhea and spares Edelgard, Rhea will snap, and in fury, reveals her true form as the Immaculate One, starting the Crimson Flower route (consequently, Flayn will leave the group and remain with the Church).

A slightly different spin on this occurs in Call of Duty: World at War during the Soviet campaign level Eviction. After being ordered to kill wounded Germans crawling on the ground in the streets of Berlin, you and your squadmates stumble upon three unarmed German soldiers cornered in a subway entrance. Your Sergeant gives you the choice of gunning them down yourself or letting your vengeful Red Army comrades throw Molotovs at them.

Later in that same game, a more traditional Sadistic Choice occurs when Sergeant Roebuck and Private Polonsky are attacked by a trio of Japanese soldiers pretending to surrender. It's impossible to save both as shooting one set of soldiers attacking one member of the duo causes the other group to succeed in their suicidal attack on the other. This causes the surviving NPC to go on a Roaring Rampage of Revenge when the time comes to Hold the Line.
Call of Duty: Black Ops II offers another one in Farid's playable segment, which ends with the choice to either shoot Mike Harper to maintain his cover, or try to take out the Big Bad Menendez right there. Shoot Harper and you obviously lose him for the rest of the game, and Farid is visibly shaken by the experience. Try to shoot Menendez, though, and things are even worse - not only does your attempt to kill him fail, but now Chloe Lynch, whose survival is necessary for the Golden Ending, will also die in the next mission, since Farid will not be there to protect her.

Rare example not offered to the story's hero: Torn in Jak II: Renegade has to make a Love Interest or Underground Movement Decision. He chooses Ashelin over the Underground, and as a result Praxis gets his hands on the Precursor Stone.
inFAMOUS: Kessler pulls this on Cole. Cole is given the choice to save six doctors, or save Trish, his girlfriend. The doctors are more relevant in context, because the setting is a city under quarantine due to disease, and the quarantine has been causing basic social services to fail while gang violence escalates to the point of insanity.

If Cole goes for the doctors, Trish dies. But there is a twist if you go for Trish instead; the choice is rigged and Trish will be a decoy, with the real Trish hidden with the doctors Cole has chosen not to save.

Notable for two reasons: First, the hero doesn't get to Take a Third Option, and second, it's actually a subversion. Kessler isn't doing it because he's a sadist, he's doing it because his ultimate goal is to harden Cole against emotional trauma earlier in his life than he would be otherwise.

It comes up again in the sequel: In the end, you have the choice to either defeat the Beast and in the process kill all Conduits, including Cole, Nix, and Kuo... or side with the Beast to save the Conduits at the expense of Humanity, including your friend Zeke. And no, there's still no Third Option — you either wipe out humanity to save yourself and those like you while turning your back on your human friends, or sacrifice yourself and some of your closest companions to save humanity. And yes, they are Killed Off for Real.

The main plot of Wild ARMs 1 is kicked off by one of these. The heroes have to either give the demons the Tear Drop, or allow the demons to destroy Adelhyde. They're forced to do the former.
In Quest for Glory V, the hero will venture into Hades at one point.

At the end of the level, he'll be given the choice to resurrect someone implied to be closest to his heart: Katrina, the vampire who died for him, or Erana, whom he forged a spiritual bond with. Both women are in love with him and he can only bring one of them back to life

.

You can choose to save neither, but that doesn't really count, does it?

Sith in Knights of the Old Republic are fond of this. One of them would torture your Love Interest Bastila (if you play male) or Carth (if you play female) to extract vital information from you. Another one subjects you and one other guy to a sick game: if you answer some questions wrong, he Force-electrocutes you, but if you answer right, he Force-electrocutes the other guy! In the latter case, it's only this trope from point of view of a heroic Player Character, as the whole point is that a true Sith, which he thinks you're aspiring to be, would always make the sadistic-towards-someone-else choice. One of the ways out is to Take a Third Option and

team up with the other guy to kill your tormentor

.
Star Wars: The Old Republic? Well, it's BioWare again, so they're going to load it on you.

Imperial Agent: Do you stop the terrorist from killing thousands while letting the one who is behind said terrorist go free? Do you stop the guy behind the terrorist and let those thousands die? There is the third option of joining the guy. and a way to subvert this and Take a Third Option, but only if you play your cards exactly right.
Republic Trooper: You have 300 Republic prisoners of war in one area of a damaged space station and your ally (and, for male Troopers, minor love interest) Sgt. Jaxo in another. Saving the prisoners will mean venting the area Jaxo is located in to space. Worse, is she's begging you over the com to spare her life.
Knights Of The Eternal Throne: Ax-Crazy bitch Vaylin is headed for your party, but said party is split. Valkorian says you can choose which one of your party you rescue

(either Vette or Torian, both fan favorites)

, and the other is going to be Killed Off for Real

Far Cry 2 contains such a scenario, the player character receives word that one of the factions in the civil war plans to wipe out a bunch of uncooperative civilians and his fellow foreign mercenary friends, and only has enough time to get to one to assist in defending. Ultimately though

it doesn't matter which option one chooses, the outcome is the same either way.

Silent Hill 3 has a sadistic choice that the Word of God has admitted to have been purposely worded that way to make the player uncomfortable. A woman of the Order confesses to Heather and begs for forgiveness. Remaining silent makes you feel like you did something wrong, but forgiving the woman gives you a tremendous number of Dark Points (and is what most people do in order to gain the Bad ending).

Silent Hill: Homecoming offers a different variation of the sadistic choice; at one point in time, you are given the option of

watching your mother die by being torn apart on a torture device, or shooting her yourself so she won't have to suffer

. Neither choice is particularly pleasant.

Ace Combat X: Skies of Deception offers you something of this in the endgame. You can either take down Alect Squadron first, which leads to the Fenrirs having annoying High Powered Microwave cannons, or you can attack the transport fleet first and deny the Fenrirs their HPMs, but gain Alect Squadron's piloting expertise. And you may also need to go through an Airstrike Impossible segment now or later. No third option here, folks.
The Dragon Age series is way too fond of this.

In Dragon Age: Origins alone:
And then the expansion, Awakening ups the ante by forcing you to choose between saving the city of Amaranthine (a major population center) or the Vigil's Keep (where your soldiers and half your party are stationed) from getting sacked by the Darkspawn. Thankfully, you can Take a Third Option again: if you have invested heavily into reinforcing the fortress and its troops, the Vigil's Keep will manage to fend for itself while you defend Amaranthine. While the Keep's losses will still be significant, none of your party members will die if you maxed out its defenses.
Dragon Age II, however, shows no mercy in its sadistic choice,

when Anders destroys the Kirkwall Chantry, Hawke is forced to choose between the Templars and the Mages and with it, potentially half of the party who have their own reservations about the freedom of mages. Despite taking a side, Hawke ultimately has to fight the leaders of both the Mages and Templars. For Hawke who sided with the Mages, Orsino was partially responsible for his mother's death while if Hawke sided with the Templars, Meredith has clearly gone insane.

Dragon Age: Inquisition also has its fair share of tough decisions. Choosing to ally with

the Mages or the Templars

will result in the faction you didn't choose becoming the brainwashed minions of the Big Bad. Playing through both paths makes it clear that both factions have plenty of perfectly decent people in their ranks too.

The end of one arc forces you to choose either a Grey Warden (

possibly Alistair or Loghain

) or Hawke to stay behind in the Fade and pull a Heroic Sacrifice on the Nightmare Demon to allow the others to escape.
There is also the choice in Iron Bull's personal quest.

The Inquisitor, while working to secure an alliance with the Qunari, is forced to chose between having the Chargers withdraw to survive, or letting them die to protect a Qunari dreadnought from the Venatori. If the Chargers are saved, Iron Bull is declared Tal-Vashoth. While there is no real third option, the Inquisitor can defer to Bull; he chooses to save the Chargers.

However, in the DLC Trespasser, it's revealed that

the Qunari will attack the Inquisition regardless, meaning saving the Chargers is the better decision in the long-term

.
In the DLC Trespasser, though it's not a decision the player has to make, we learn that

Solas needs to either let go of Elvhenan, his home, and be solely responsible for its destruction, or bring it back at the cost of the entire world that came out of its semi-destruction. It's not a difficult decision to him if your Inquisitor made him genuinely believe that the world is made up of semi-Tranquil, but if you had high approval, he needs to live with the fact that he's probably going to end up mass-murdering countless people including his best friend/girlfriend unless he's willing to live out the rest of his now-tiny life in a world that will never compare to his and then die as the last of his kind.

In the 2005 version of The Bard's Tale, you get a choice between saving the princess you've been trying to save, and killing her at her kidnapper's request (who insists she's a demon).

If you choose to kill her, she turns into a demon. If you choose to kill the wizard, you beat him and THEN she transforms into a demon, who keeps you as her right-hand man.

You also have a third option, to ignore both of them, go back to the bar you started at, and just get used to the undead horde that's been rising to conquer the world. They're not that bad.

The Last of Us:

Joel finally gets Ellie to the Fireflies in Salt Lake City. Ellie's being prepped for surgery to begin creating a cure, which entails removing her brain, killing her in the process. Joel is faced with a choice: allow the girl he has come to see as his daughter to die and allow humanity to possibly be cured, or save her and damn humanity to the status quo. He chooses the latter.

Yume Miru Kusuri presents you with three girls, you can only save one from their painful problems. Once selected, your character watches the other two their slow inevitable and painful descent to despair from their problems while you are merely buying extra time for your selected girl. She too can join the others in a bad ending if you made the wrong choices
At one point in Advent Rising, you are forced to choose to save either your brother or your fiancee. The one you choose to save ends up dead later in the story, and the villains guilt trip you for failing to save the other one. Worse yet, there's a glitch that sometimes switches your choice to the other person, so it's all meaningless.
Persona 3 features such a choice near the end of the game,:

it turns out your new friend, Ryoji Mochizuki, is a an unwilling harbinger for Nyx, a Shadow of immeasurable power who would soon come and wipe out humanity. Ryoji assures you that you have no chance of winning and offers you a choice that you must make on New Year's Eve. If you choose to kill Ryoji, you and your friends' memories of Shadows, the Dark Hour, Nyx, and humanity's impending demise will disappear, and you can live out the rest of your days in blissful ignorance and, when Nyx finally comes, die peacefully. On the other hand, if you decide not to kill Ryoji, you will have a month to prepare for Nyx's arrival. You will fight Nyx, but according to Ryoji, you will be fighting a losing battle and will know naught but despair.

Persona 5 has one near the end of the game: it turns out Igor is not actually the real Igor, but a wicked god, Yaldabaoth who manipulated the events of the game from behind the scenes and who essentially wrote you and your comrades out of existence at this point in the game. He offers you two choices. Option A is to join with Yaldabaoth and let him return the world to its previous state, continuing your lives as Phantom Thieves while he observes your actions, but in so doing robbing humanity of their ability to think for themselves. Option B is to continue to oppose Yaldabaoth, futile though it is to fight against the God of Control. The former choice leads to the bad ending, while the latter leads to the final boss battle and the good ending thereafter.
Legend of Mana: Near the end of the Heaven's Gate arc, Escad and Daena come to blows. You get to decide who to side with, causing the other person to initiate a battle to the death. You can't even Take a Third Option, as saying that

they're both wrong

causes

the one you've been nicer to

to flip out and try to kill you.
Many, many instances in The Witcher. An early example has Geralt having to decide whether or not he should give a crate of supplies he just defended to a desperate band of travelers.

If he gives them the supplies, he later discovers that the "travelers" were actually terrorists, and the "supplies" were weapons they used to murder an innocent man. If, on the other hand, Geralt sees through the terrorists' lie and kills them, he later finds out that his actions caused the arrest of an innocent man.

Either way, someone gets screwed over.
In Pokémon Mystery Dungeon: Explorers of Time/Darkness/Sky, the hero has to choose between joining their partner on the dark side or leaving them at the mercy of the Big Bad, who wouldn't want just one of them... or not. It's all just a nightmare.
Fallout 3 DLC The Pitt.

You can either defeat the slavers and kidnap the leader's child. This means that the Pitt loses its standing army, the child is subjected to rough treatment and the freed slaves may not even able to discover the cure to the massively degenerative disease them as none of them seem to have scientific knowledge. On the other hand you can crush the slave rebellion, allowing an army of slavers and raiders to terrorize the region and slavery continues in the Pitt, probably even after a cure is found. Don't rely on the Karma meter to tell you which is right, those popups won't give you any comfort now. Worst of all, even after you make yourself believe you did the right thing you then remember that those subhuman creatures the disease turns them into were the only large scale food source available in the Pitt.

In Super Robot Wars Original Generation (and possibly the Alpha series as well?), Elzam's backstory centers around one of these. He can either let a space colony be exposed to nerve gas while he chases the villain, or blast open a hole and launch both the canister and his wife into space. His wife was already exposed to the gas anyway, he just couldn't pull the trigger himself until she begged him to.
In the Fan Remake of King's Quest II, there is a flash-forward to the era of King's Quest III. Daventry in ruins from the ravages of a three headed dragon. Graham's son was kidnapped as an infant, and Graham's daughter has given herself up to sacrifice to try and appease the dragon, knowing it's only temporary. And then the The Father, the Chessmaster who set all this crap up in the first place, shows up to gloat. He then presents the choice: if Graham give up the crown, the Father will remove the curse he's put on the family, dismiss the dragon, and restore Daventry. He will even give Graham his children back. The full points option (it's playable) is telling him to rot in hell.
The first Another Century's Episode game features one of these:

Either blow up civilian space shuttles at random trying to locate a bomb, or let that bomb get to Earth and completely wreck the environment.

Thanks a bunch,, Char.
Prince of Persia (2008) ends with a pretty hefty one for the Prince: Elika, the Prince's Love Interest, has just died to re-seal Ahriman, so the Prince has the choice of either letting her stay dead, or using the power of Ahriman's prison temple to resurrect her, thereby releasing Ahriman and resetting everything he's done. It really tells you something about his character when

he brings Elika back. She's not happy about it.

A justification in the Epilogue: The Prince (rightly) states that all that had been accomplished was putting the Sealed Evil in a Can back in its can rather than actually destroying it, meaning that at some point in the future, this whole process would start all over again... except this time without the one thing that could stop it from winning: Elika. So reviving Elika (although an emotionally-driven decision) actually does have some logic to it. Let the world live on for another few hundred years before almost certainly being taken over by darkness and evil and people who kick puppies, or take this one freak chance that has arisen due to circumstances that will likely never happen again to destroy the Sealed Evil in a Can forever? In the long run, the Prince's decision is the smarter one. You know, if what you're going for is keeping the world safe from this particular evil for the rest of time.

Final Fantasy VI has Kefka, of all people, invoking this on Edgar Figaro. He has his soldiers torch Figaro Castle and state that they'll stop torching his kingdom if he hands over Terra Branford. This backfires on Kefka when not only does Figaro escape with Locke and Terra, but he also orders his guards to have Figaro Castle tunnel underground.
World of Warcraft:

Sylvanas takes Darius Crowley's daughter hostage and offers him the following options: Surrender and retreat, giving up his homeland and abandoning the battle, or have his daughter killed and then reanimated as one of the forsaken. Crowley, for context, deliberately got the worgen curse so that he wouldn't be able to become undead. That's how much he hates the undead.
The members of Garrosh's Horde who don't like his actions have this. Either go along with him and risk their people in what they see as a self-destructive and immoral war with the Alliance, or turn on him and suffer his wrath.
At the end of Legion's Val'sharah storyline, Xavius tries to force one of these on Tyrande Whisperwind. Pursue him to rescue her husband Malfurion, or return to the Temple of Elune, the goddess Tyrande is priestess of, to protect it from the corrupted dragon he has unleashed on it. Tyrande, however, immediately chooses to rush to the temple to protect it, knowing that Malfurion is strong enough to deal with Xavius for at least a little while. Which is absolutely true. When the player comes to rescue him, he's fine.

In RuneScape, in the quest "The Void Stares Back", you (as the hero) must choose between two of your allies who the Big Bad has captured - the one you choose will live,and the other one will die. Naturally, both encourage you to save the other. Although, you don't see the one you choose to save after the quest.
Metal Gear:

In Metal Gear Solid: Peace Walker, Hot Coldman managed to leak Peace Walker's false data to NORAD with the intention of forcing the military to choose between launching nukes, namely with the belief that humans don't possess the will to launch nukes, although he also hints that he truly doesn't care if they did launch in either case.
A variation occurs in Metal Gear Solid. When Snake is captured, Ocelot gives him two choices; endure torture, or submit and accept defeat. A few hints are dropped in the dialogue beforehand, but the repercussions aren't explicitly clear until you reach the end of the game. Submitting results in

Meryl's death,

while enduring the torture

saves her.

This wouldn't be much of a sadistic choice if not for the fact that Button Mashing to survive the electrocution is frustratingly difficult, whilst submitting is the easier, albeit less moral decision.

Alpha Protocol:

The game forces you to choose between the life of someone you care about, and the lives of many people you don't know.

And just like them, the character you care about exits the story either way (though for once, she has a chance of not exiting in a body bag.)

Interestingly in

Rome

, the choice is even more difficult. While the utilitarian decesion is to save the greater number of people, saving

just Madison

hurts the greater objectives of Halbeck further as she survives to campaign against them politically whereas if she dies the anti-terror laws, that were the motive of the attack, are passed.
During the Taipei missions, Thorton has to stop Omen Deng from assassinating Taiwanese President Ronald Sung or at least he thinks Omen Deng is the assassin and at one point, he manages to recover Omen Deng's flash drive. The problem? The flash drive has protection software that deletes the disk when opened, so Thorton has to choose to either save the data about the assassination, or save the data about deliberately instigated riots planned to happen in the future. If he saves the data about the assassination, President Ronald Sung's life is saved but hundreds of people get killed in the ensuing riots. If he saves the data about the riots, the president puts extra security around to stop the riots before they happen, but the assassin successfully kills Sung.

In Team Fortress 2:

You can invoke this on any inexperienced Engineer. When you sap his sentry you have to force him to either fix it, resulting in you being able to get away and possibly sapping again, or try and kill you and risk loosing his sentry. Most inexperienced Engies do not realise that the spy can instantaneously place a second Sapper as soon as the first one is removed, and those that do are often not nimble enough to catch experienced spies, who often lure them away long enough so that the sapper destroys the sentry. In this, the third option for the Engineer would be to alert their teammates that a "SPAH'S SAPPIN' MAH SENTRY!" and let them do the gunning down while the Engy fixes his sentry.
Any person who plays Medic will at some point come across a situation where two or more people run up to them while burning or bleeding to death with neither dispenser nor health kit in sight. Your healing beam can only focus on one patient at a time. Occasionally the victims will have enough health that a particularly fast and skilled Medic will be able to bounce just enough healing to each patient for all of them to survive, but this is rarely the case.

None of the endings in Deus Ex are exactly happy but an example occurs when JC is holed up with his injured brother. Government agents arrive and you can either go out through the door to fight them or slip out the window and leave Paul to his fate. The choice is more difficult if you have specialized your character for stealth.

This becomes almost a non choice if you know that you get captured when you're "killed" (which will happen inevitably regardless of choice) and that the only thing that truly chooses whether Paul lives or dies is if you exit the room via the door or escape out the window, respectively.

In the Deus Ex: Human Revolution DLC The Missing Link, Adam ends up on the butt end of one at the end. Arc Villain Burke, in an attempt to cover up his tracks and destroy evidence of his crimes, unleashes poison gas across the facility, intending to kill everyone in it. Adam reaches a control center and is forced to choose. Option A: Redirect all the gas into the laboratory, saving hundreds of innocent prisoners but killing a whistleblower who can unravel the inhumane experiments happening in the facility. Option B: Redirect all the gas into the cells, saving the whistleblower and putting an end to the experiments but sacrificing hundreds of innocent lives do do so. Option C: Find the extremely well-hidden pump for the gas and destroy it, saving everybody. "All of the Above", indeed.
The ending of Killer7 presents players with one: kill Matsuoka, and

the US will wipe Japan off the face of the earth

; spare him, and Japan will attack the US, starting World War III.
In the last level of de Blob 2, the Big Bad has placed bombs around his enslaved workers and only Blob can save them. He taunts you to either waste time saving a few and let him get away with brainwashing the rest of the planet, or go after him and leave those few to die. But there's enough time in the level that if you're any good at the game, you'll be able to do both.
Although this is put in a rather subtle way, in BlazBlue this occurs to Litchi Faye-Ling. Hazama invites her to join the NOL because he has the cure for herself and Arakune. Her condition is worsening and if left be, she'll be at best a burden to Orient Town, at worst turn into the next Arakune and eat her former friends. If she just refused, there will be a big chance that Hazama will dispose the cure and her only lead for salvation lost. It boils down to either "Go betray those who expect you to be a good person and join The Dark Side" or "Slowly wither and die, or if lucky, turn into a monster that eats everyone who looks up to you." There's just no third option for her. She did have a third option:

give up on Arakune and get Kokonoe to help her deal with her Boundary corruption which Arakune himself begs her to do in his true ending.

She just refuses to take it because

giving up on Arakune would have made all of her efforts pointless.

The end of Assassin's Creed III forces Desmond Miles to make a choice between letting the Earth burn in the hope of building a better civilization After the End, knowing that evil will eventually return; or saving the world but handing it over to a vengeful Physical God who will enslave mankind. The latter choice also comes at the cost of his life. He chooses to save the world, hoping that his friends will be able to stop Juno in the next game. To highlight how sadistic this choice is,

Minerva actually recommends doing the opposite of what Desmond chose. In her opinion, setting Juno loose would be worse for humanity than a solar flare frying the planet.

A sadistic choice plays a pivotal role in the backstory of Arcanum: Of Steamworks & Magick Obscura: one of the dwarf clans carelessly allowed humans access to their secrets of technology, humans used that technology to destructive ends, and a delegation of elves petitioned the dwarf king Loghaire Thunderstone to allow them retribution against the clan (elves, being In Harmony with Nature, suffered most from the industrial revolution). To allow elves to interfere in the dwarven justice system would violate the clan's honor, but upsetting the elves could have led to a war which would have devastated the continent. Loghaire eventually gave in to the elves' demands, but was so ashamed of his decision that he abdicated the throne and exiled himself from his people.
Saints Row: The Third:

In the penultimate story mission,

the player is forced to choose between going to Magarac Island to save some friends that STAG had kidnapped and strapped explosives to, but in doing so allow Killbane to escape; or go after Killbane and kill him, but in doing so allow your homies to die.

Mocked in Saints Row IV in the first mission, where you must choose one of two world-changing bills as a short button pressing event—a bill to support a cure for cancer ("Fuck Cancer") or a bill to end world hunger ("Let Them Eat Cake"). In a later mission, Zinyak offers you a choice to either continue your quest to rescue Matt Miller/oppose the Zin Empire (and face further opposition from the Zin) or give yourself up and ensure the safety of what's left of the human race (and get a Non-Standard Game Over where you're bluntly told "ZINYAK LIED").

Subverted in Shaundi's Loyalty Mission: in the end, two digital clones of DJ Veteran Child take Shaundi and "Fun Shaundi" (Shaundi's Literal Split Personality, based on how she was in Saints Row 2) hostage and try to force you to choose who lives and who dies. Both Shaundis collectively decide "Fuck that!" and kill the clones themselves—especially poignant is that they each kill the clone threatening the other Shaundi, demonstrating their newfound readiness to accept each other.

For the final mission in The Bureau: XCOM Declassified, you get to pick a new Player Character from among

Faulk, Weaver, and Weir

. After you reach your assigned objective, both of the others get in trouble and ask for your help. You can only pick one, resulting in the other one dying. You also get another choice on whether to

execute Carter or not

. If you choose the second option, he will swear vengeance.
One of the early bosses in Demonicon is a cannibal who kidnapped a bunch of local refugees. Problem is, he happens to have blood-bound them all to himself, so if you kill him they die too, but if you let him go he gets to find a bunch of new victims someplace else. Unfortunately for good-aligned players, there is no third option to just let the prisoners go and turn him into a Sealed Evil in a Can or something.
"Your mother has been possessed by a demon and pleads with you to end her suffering. Do you kill her?"

Returns with a vengeance in Shin Megami Tensei IV. Issachar, already dying from wounds you inflicted on him, begs you to hurry and kill him. Much later, in the Chaos Ending's Playable Epilogue,

a Mikado woman is surrounded by a flock of Halphas, and is offered to either remain a human and be devoured, or just take a Red and become a demon

.

In Fallen London, the Finder of Heiresses storyline ends with one after you find out that the missing Comtessa has been turned to clay by her Clay Man lover and is only able to stare at you with frightened eyes: do you kill her on the spot to save her from a potential Fate Worse than Death, or do you leave her as she is with the reasoning that you don't know enough about the situation to kill her? The game deliberately leaves it ambiguous if you made the right decision or not, regardless of which one you choose.
LISA: The Painful RPG thrives on these. The majority revolve around whether or not you're willing to risk yourself in order to save one of your allies. Choosing to act almost always leads to Brad getting disfigured and suffering a stat loss, while abandoning them leads to their deaths. One of them is a choice between

the lives of three of your party members, or your surrogate daughter's nipple

.
In Star Trek Online mission "All That Glitters...", Vaadwaur leader Gaul has decided to

slaughter the Talaxians remaining in their asteroid base

as a major "Fuck You" to the player for trying to be the good guy. At one point, you're asked to choose between two doors and even if you're playing with multiple people, you cannot open both. Even the EMH Mk. I expresses displeasure at this choice.
Near the end of the prologue in Wolfenstein: The New Order, Deathshead has Blazkowicz and his surviving squad mates captured, and forces Blazkowicz to choose either Fergus or Wyatt to be taken away and "put to the scalpel". Doing so changes the story in a number of ways, both subtle (hotwiring/lock-picking minigame) and not-so-subtle (different characters join La Résistance depending on who you save). And there's no third option either - take too long to choose, and you ALL die. You have to choose either Fergus or Wyatt. And just to rub it in, at a certain point in the plot whomever you saved will ream Blazkowicz out in an outburst of Survivor Guilt and say that he made the wrong choice — Fergus says you should have saved the younger man, while Wyatt says you should have saved the more experienced soldier.

Making matters worse, whoever you sacrifice ends up becoming the penultimate boss, their brain used to power a prototype Nazi warmech.

Life Is Strange lives on this trope. You'll end up running into this multiple times in each of the five episodes.

The final decision of episode five leaves you to decide whether to save the townspeople of Arcadia Bay from an incoming tornado, or save your best friend/possible love interest.

There's one that only becomes sadistic on a second playthrough. In chapter 4,

you're given the option of having Max warn Victoria that Nathan is targeting her. If you've got Vic to the point that she believes you, this leads to her death as she goes to the actual villain, Mr Jefferson, for protection, and he disposes of her before he does Max. In the second playthru, this leads to the difficult choice of sending Vic to her death, or either being a jerk to her through the earlier chapters, or having Max act on knowledge she can't have (or change to a jerk characterization at a strange time).

Until Dawn is all about this. At the beginning, it seems mostly like the choices are about morals (like telling Matt that his girlfriend hugged her ex), but it at some points becomes quite sadistic like when

deciding whether Ashley or Josh should die by a gigantic saw

, when having to decide on

Matt saving himself or trying to save Emily

or

shoot Ashley, shoot Chris or letting both die

. While some of these interestingly don't really end in the characters certain death, they can impact later decisions or lead to the ironic death of the one you saved.
In the Heroes of Might and Magic IV "Glory of Days Past" campaign, Waerjak at one point must decide between rescuing his foster father Tarnum or freeing a bunch of slaves. It is actually possible to choose Tarnum, but doing so results in scenario failure. Waerjak must choose the slaves over his father to "win". The right choice is foreshadowed by the narration, which has Tarnum teaching Waerjak about The Needs of the Many.

Fortunately, Tarnum isn't called "The Immortal Hero" for nothing.

Darkest Dungeon: In addition to the adventurers whose survival outweighs the necessary assets you can acquire, the final battle requires you to sacrifice half your party to "Come Unto Your Maker", unless you're lucky enough to buff one of your heroes to kill the Heart of Darkness in one shot. And in the end, the Heir has seen too much and must choose between a life of insanity and a cowardly death. They choose the latter.
Minecraft: Story Mode:

At one point in the first episode, Aiden floods your Endercon booth with lava, which sets Reuben (your pet pig) on fire, but also puts your machine at risk of heat damage. Will you have your friends help you find Reuben, or have them stay and save the machine? Unlike most sadistic choices, this one has a correct answer, non-obvious though it may be, which is

to have your friends stay behind. They don't actually help at all in the search for Reuben, but they do save the machine. If the machine survives, it wins the Endercon building competition, but if your friends aren't around to save it, the Ocelots win instead.

At one point within the story, you're given the option of saving either Gabriel or Petra from the Wither Storm. You can't choose both.

In episode 3, there's an unusual example that at the time is just presented as a regular choice, with the "sadistic" implications not occurring until later:

you need to take either Magnus's or Ellegaard's armor to proceed, but the person whose armor you take will be killed later after taking a lethal blow without armor to protect them. So you have a sadistic choice of saving either Magnus or Ellegaard; you can't save both.

Batman: The Telltale Series has a fair amount of them:

In Episode 2:

Batman is forced to choose between saving Catwoman from armed criminals or saving Harvey from Penguin. Failing to save Catwoman will drive a wedge between Selina and Bruce, but failing to save Harvey will leave his face disfigured.

In Episode 4:

Harvey Dent wanted to go into Wayne Manor to defeat Bruce Wayne while Penguin was attempting to hack into the bat-computer while he is inside Wayne Enterprises. Either you must head back to Wayne Manor to stop Harvey Dent while forcing Batman to give up all of technology to prevent Penguin into hacking the bat-computer and knowing everything about Batman or you head to Wayne Enterprises to stop Penguin while leaving the fates of Alfred and Lucius unknown when Wayne Manor was burnt to the ground.

In Episode 5:

Lady Arkham holds Alfred hostage and threatens him unless Batman reveals his identity to her. If Bruce complies and removes his cowl, Lady Arkham will attack him and blast off a piece of his ear. If Batman refuses, Alfred will lose an eye.

Episode One of the second season:

Riddler manages to trap Batman in a cage along with one of the government agents he captured, while the other three are still locked in his death traps. He offers Batman a set of "riddles" (which is really just ego-stroking, like "What's the name of the man who outsmarted the Batman?"); if he answers wrong or refuses to answer, one of the trapped agents will be killed. However, every time he answers correctly Riddler hits the cage with a blast from a sonic weapon; while Batman's suit will protect him from the worst of it, the agent in the cage with him will die of internal hemorrhaging after three blasts. Tragically, the game subverts the "third option": if you answer all three questions, Batman will figure out a way to destroy the cage while putting the agent inside a broken deathtrap to shield her from the blast. While she survives, the sonic attack leaves her permanently deaf, something that makes her partner hate Batman more than he already did

.
At the end of the second season, Alfred has had enough of Bruce's Batman life and decides to leave Bruce behind. Bruce is then given the choice to either continue to operate his Batman identity but giving up his father figure in the process or he gives up on the mantle of being Batman so that Alfred can stay.

Invoked by Eggman during Sonic Adventure 2. Sonic has the last chaos emerald needed to power the ARK's laser cannon, and in order to coerce Sonic into cooperating, Eggman holds Amy hostage, threatening to shoot her unless Sonic hands over the emerald. Naturally Sonic chooses to save Amy, but Eggman was well aware that the emerald was fake, using Sonic's own ploy against him.
Heavy Rain is fond of this, but the most prominent example is the chapter where Ethan is ordered to kill a drug dealer. At first it seems like it's going to be an easy choice, but then you chase him into

a children's bedroom and he shows you a photo of his two daughters, all while begging you not to shoot him.

Suddenly, the decision gets a whole lot harder, especially when you take into account that the Origami Killer won't reveal any clues to Shaun's whereabouts unless Ethan kills the man.
In The Elder Scrolls backstory, the Falmer (Snow Elves) were faced with one - extinction or transformation into Morlocks. At one time, the Falmer had a civilization rivaling that of the Altmer (High Elves) spanning across Skyrim and Solstheim. However, they came into conflict with the ancestors of the Nords who were coming over in droves from the freezing-over continent of Atmora. Ysgramor, one of the Atmoran leaders, rallied an army of 500 of Atmora's greatest warriors and led them on a purge of the Falmer. Facing extinction, the surviving Falmer turned to their Dwemer cousins for shelter. The Dwemer accepted the Falmer, under the condition that the Falmer must consume toxic fungi that would blind them and then serve as slaves to the Dwemer.

The Elder Scrolls V: Skyrim: Hearthfire piles a pretty heavy one on the player. Amongst other things, it allows the Dragonborn to adopt kids. There are four candidate orphans in the game: Lucia, the Imperial girl begging for coins in Whiterun after her parents died; Blaise, a Breton boy barely earning his keep as a stablehand at Katla's Farm; Sofie, a Nord girl selling flowers in Windhelm; and Alesan, a Redguard boy who helps the miners in Dawnstar. All of them clearly could use a hand, but (and here's where you may have seen this coming), you can only adopt two, no matter what choices you make there will be two children in Skyrim who you couldn't give a better life. And that is not getting into children with Abusive Parents and the orphans at Honourhall Orphanage (though you can make their lives better by pursuing the Dark Brotherhood quest and taking care of Grelod the "Kind").
Also in Skyrim, there's the Sadistic Choice that kicked off the plot: Jarl Ulfric Stormcloak invokes ancient Nord custom to challenge High King Torygg to a Duel to the Death, citing the boy king as an ineffectual puppet unfit to rule. For Torygg, he can either accept and die in a Curb-Stomp Battle against an old war hero who everybody knows is ten times the warrior he is, or he can refuse and live, but be humiliated and prove Ulfric's point all the same. Torygg chose the first one, and paid with his life.

Mega Man 2 presents the player with a more gameplay-oriented one in the form of Quick Man's stage, which is full of One-Hit Kill lasers and requires near-perfect platforming to get through. While the lasers can be halted with the Time Stopper, at the end of That One Level is That One Boss - Quick Man himself, who's also weak to Time Stopper. You also can't turn off Time Stopper once you've activated it, meaning once you turn it on it'll run continuously until it's out of ammo, leaving the player to choose between using it to get through the stage or using it to weaken Quick Man. Even Taking A Third Option and grinding for weapon energy just before the boss room is made incredibly tedious by the only available enemies being tanky Sniper Armors.
Golden Sun has a big one in regards to Alchemy being unleashed. It is said that the world would be destroyed from Alchemy's sheer power if it was unsealed, so Isaac's party fight to prevent that from happening. In the second game, Felix (who later tells Isaac) learns that the world is on the brink of destruction because Alchemy is sealed due to the world being starved of it. Isaac sums it up best when he basically says "So we either keep Alchemy sealed and let the world be destroyed or we unleash Alchemy and the world gets destroyed anyway. What a choice." The party opts to break the seal on Alchemy and while several towns do get destroyed and the landmasses shift, the world is survives and is much better off than it was before.
SOMA is particularly fond of these. To elaborate:

Choose between

torturing a very sentient robot until he's catatonic so you can reroute the power, or turn off the power entirely so he'll die quickly, but doing so will let the monster downstairs in.

Choose between

killing a woman who is forever stuck to machinery, unable to move and turned into a twisted, organic cyborg-like being, or leave her alive, alone forever, horribly aware of her situation.

Either

kill an innocent robot who's blissfully unaware of his condition or the little robot you've befriended along the way. If you choose to kill the former, your friend becomes scared of you and will run away from you, never to be seen again.

Kill yet another innocent robot who's unaware of her situation, thinking she's in a much better place, or spare her - if you choose the former, she'll tearfully protest and beg you not to kill her.

Mercy-kill what literally used to be you up until a few minutes ago, or leave him alive to wake up alone and scared yet again, forever trapped in a relatively small room with no company and no way to die.
Choose to either kill the literal last human on Earth, or leave her alive with the knowledge she's the last of her species. If you choose to put her out of her misery, she asks you to stay with her until she's gone. You can ignore that request.
Finally,

choose to either kill the WAU, destroying what is most likely humanity's best hope despite its shortcomings, and causing you to lose your arm, or leave it alive and risk it creating more abominations and keeping all those horribly tortured people "alive."

After all of these, the game ends with your main character effectively being forever trapped at the bottom of the sea, alone.

Disgaea D2: A Brighter Darkness retroactively changed an event for the backstory of it's prequel into one of these. When Laharl was sick with his deadly illness that could only be cured by the death of a loved one, his mother was also pregnant with Sicily at the time, meaning that she had to choose between letting Laharl die and saving Sicily, or killing herself to save Laharl, which would also kill Sicily. Luckily, she managed to take a bittersweet third option.
While escaping from Dr. Mephesto's lab towards the end of South Park: The Fractured but Whole, you find both of your kidnapped parents in a locked room. The only way out is sealed with a DNA scanner awaiting a sample from one of them. Your dad is strapped to an operating table, naked and terrified, and your mom is heavily wounded with her legs broken by one of the mutated sixth graders who are rampaging through the lab. If that weren't bad enough, they've been at each other's throats throughout the entire game and are now both urging you to kill the other. There's no third option here and no other way out of the room; you have to kill one of your parents to leave, either cutting your dad's head off with a laser or ripping your mom's arm off, leaving her to pass out from shock and bleed to death. Your choice ultimately doesn't matter in the end since you travel through time and eventually stop Cartman from taking over South Park, which also prevents the death of one of your parents.
In Spider-Man (PS4), our favorite web-headed hero is left with one of these at the end:

Peter has retrieved the antiserum to the Devil's Breath bioweapon. However, in order to make an antidote out of it, they need to use the whole thing. However, one of the first victims, Aunt May, is on the brink of dying. In a moment of desperation, Peter is prepared to use the whole thing on Aunt May, but stops himself at the last minute and ends up grieving as Aunt May dies and allows the antidote to be used to save others.

While exploring Talos I's bridge in Prey (2017), you find out that a shuttle carrying five people is on its way to Earth and is going to land in Seattle in a few minutes. Unfortunately, there's no way to contact them, and no way to tell if they're carrying mimics or not. So do you let them land on the off-chance that it won't doom humanity? Or do you remotely detonate the shuttle's scuttling charges and kill everyone on board, since you can't risk the danger of even one Typhon organism making it to Earth? The worst part about this is that your choice doesn't even matter. Whether you choose to blow up the shuttle or not, there is no impact on the game's plot at all. It doesn't void out the achievement for finishing the game without killing anyone or even affect the ending. It's just to make you feel bad.
The gameplay of Noone Has To Die involves you making these to decide who lives and who dies in a fire, due to a ridiculously terrible security system that makes it impossible to get everyone out alive. Your goal is go through all the possible paths in order to find the way to the true ending, in which you can save everyone.
Being a Spiritual Successor to Baldur's Gate-model CRPGs, Pathfinder: Kingmaker contains a lot of these.

What will you choose: send the militia to protect your helpless citizens or secure the merchants' trade routes? The former are innocents civilians and contribute hard to your community. The latter are the backbone of your economy and it will collapse if you don't help them. Of course, you can always delegate someone else to make the decision.
Happens in the third part, where you have to choose to either

assist Kesten in storming the Womb of Lamashtu and abandon the capital to be sieged by the monsters, or save the Capital but leave Kesten to die

. Being Lawful allows you to Take a Third Option, ordering Kesten to protect the capital while you storm the Womb alone. A possible bit of Loophole Abuse involves saving one or the other but not talking to them prior to saving the other as well. Doing so will also spare both men.
Prior to this, dealing with the cult behind it has you decide whether or not Olika, the widow of a merchant whose body you'd found during Troll Trouble, should be allowed to receive Lamashtu's "blessing" to save the life of her unborn child, knowing full well what a blessing from the Mother of Monsters could entail. If you let her, the "Where Are They Now?" Epilogue states she was killed by an angry mob.
The end of Jaethal's companion quest line, especially for non-Evil players - either pull a Grand Theft Me on her daughter, or kill her and raise her up as an Undead. While she can Take a Third Option depending on prior choices, this option kills Jaethal, as she effectively tells Urgathoa to go pound salt - and Urgathoa responds with a Bolt of Divine Retribution that makes Jaethal Killed Off for Real.

Yes, Your Grace: The game's opening itself tells the player the game is one of tough choices:

The basic mechanics of the petitioner help system involves choosing who gets help, and sometimes what help they get.
Any money spent on upgrades ranging from giving Lorsulia a better wedding to giving the castle a chance during a coming siege is money that can't be used to help petitioners.
Grego, one of the potential allies, will require one of the castle's painting to give Eryk his men and will offer good money for three others after that. A good way to get a little extra cash, except

that he's acquiring them to burn them

. And one of the things that can be sold to him is a tapestry made by Aurelea, Eryk's wife.
The sets of Mutually Exclusive Party Members. Support the Fantastic Drug trade for extra cash or help ban it and

choose between letting your new ally trade with the enemy or financially supporting him

? Ally with a

phony hero

who's otherwise a decent person or a

real veteran

who is a Domestic Abuser?

In Ghost of Tsushima, Jin happens upon a man crying over his son's corpse. He tells Jin that the invading mongols forced him to choose which of his children would die. Later Jin finds the surviving son, who says his father actually chose him to be killed, but the mongols murdered the favourite son instead.
---
---