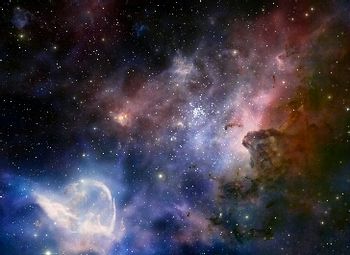 "The Multiverse is, in essence, a writing game in which all players have equal input into the story. There are no statistics or win conditions, and instead, the constant overarching goal for each player is to explore the extensive possibilities that occur when there are no limitations on the scope of reality." -Remæus, Render of the Realms
The Multiverse is a massively multiplayer play-by-post roleplaying game that is featured on Roleplaygateway.com. It consistently holds the title for the largest game on the site, at least in regards to character and player count.
In The Multiverse, players are encouraged to take on the role of anyone and anything they desire, so long as that role is played responsibly and with the right characterization (This doesn't happen as often as most people would like). The in-game setting can literally be anywhere: most locations are player made, but there are several that tie directly into real world franchises.
The Multiverse, or, more commonly The MV has been running for at least eight years, but has slowed down considerably over time. The site's owner and administrator, Remæus, is one of the permanent GMs for the MV. It's a good thing too, because the MV has a large reputation on the website for being unruly (At best). This comes with the territory of unlimited creative freedom, however, and the game has played host to several extremely long-arching and complex stories because of said freedom.
The MV has no singular plot or goal (though attempts have been made), so the entire game is character driven. There are, however, several larger ongoing stories that span almost every genre imaginable. It would be impractical to try and encompass a summary of the MV's content here, so it's probably better if you look for yourself. On that note, since everything can (and probably has) happened in The Multiverse, it would be shorter to list the Tropes that don't apply to it. The list here applies specifically to the game's largest driving themes and elements. Only characters who have had a verifiably large impact on the game should be mentioned here; otherwise, feel free to make a heading for them on the The Multiverse characters page.
---
Tropes
---
In short, our infinity is infinitier.
---