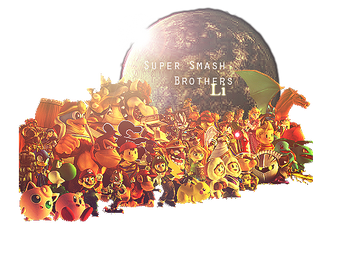 Super Smash Brothers Life Itself is a Play-by-Post Games created by Shadow EX and takes place 10 years after Brawl's Subspace Emissary, and it has been running for six years.
After the events of The Subspace Emissary from Super Smash Brothers Brawl, all the heroes (and villains) reclaimed peace after defeating Tabuu and resumed their usual adventures in their respective universes...everything was right again.
Due to a mysterious blast wave, many characters ended up on a mysterious planet called LI. However, Shadow Bugs also existed on said planet, unfortunately mutated into a strange virus that started infecting people and turning them into mindless monsters. The virus, named the Starvia, forces the refugees into a shelter known as the Life Sphere, the only place with pure air around the planet.
Mario, Sonic the Hedgehog and Samus Aran run the sphere along with Professor E.Gadd as a possible substitute. Mario and Sonic, however, are fighting over what to do with LI. Mario wants to destroy the Essence Extraction Point, the most dangerous place in LI and the source of the Starvia, while Sonic just wants to build a spaceship and escape the planet. Samus? She's neutral on the matter.
While the plumber and the hedgehog bicker with each other, the various other characters go out of the Life Sphere to do missions in order to improve the sphere's condition, and there is where most of the action takes place, as everyone struggles to survive in this new dangerous world...
It also has a Wiki page.
You can visit the site here.
---
Life Itself contains tropes of:
---