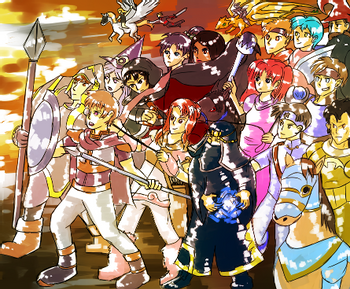 A series of play by post games based off the popular Nintendo series Fire Emblem, hosted on the Bay12 forum's Forum Games and Roleplaying section. The original Fire Emblem On Forums game was started by Haspen and soon spawned a number of spinoffs run by his players. The games are run based on a homebrewed system based on the Fire Emblem games, with aspects taken from the games such as Permadeath, the class system and the use of battle maps.
The list of Fire Emblem on Forums games:
Bay12 Live Games
Completed Games
Live Games
Dead Bay12 Games
A FEF sister community used to exist on Pokemon Reborn, but with the removal of the roleplaying forum to clubs and subsequent exodus of players, the site no longer hosts any active games.
Pokemon Reborn Games
Games with their own pages:
These games contains examples of