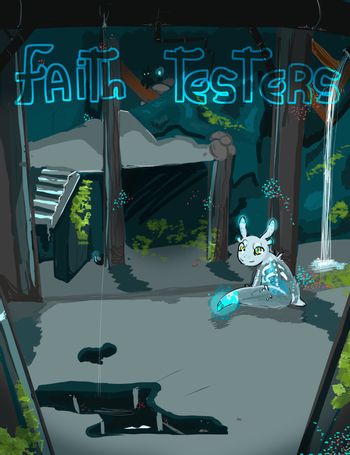 Living your life on top the tower has been easy. Traveling down with a party of misfits and idiots not so much...
They say long ago the ancestors built a tower for their GOD. All you know is the tower stretches for miles upon miles downward. They left the surface of the world and built a dome over their tower. This dome was where you were born. Clouds surround your sky and the rotten remains of the tower are your ground. You never cared about the world below… Until Meru fell. A call is made in the town of Jilva for Faith Testers.
The job pays well and leads to a decent future for most. It comes in response to the town of Meru falling into the tower less then a decade ago. With the supports of the tower failing, Jilva is looking for a way to prevent their destruction.
All these brave souls have left is the values they brought with them into the Tower. Monsters, guardians of the old age, roam the floors and structures come undone under your feet. People can become horribly lost in the labyrinth. Is what they might find worth the death and misery they might face?
Note when adding examples: Try to limit this page to particularly noteworthy examples of specific tropes or prevalent general tropes.
---