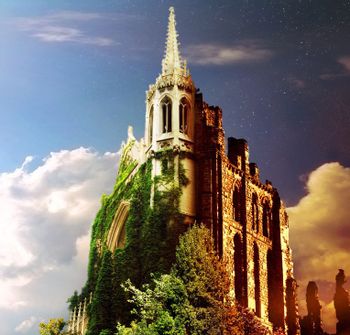 Dear Prospective Student,

Don't worry about anyone looking over your shoulder. Only those with Sight - the ability to see things for what they really are - can read the true contents of this letter. The Blind, those lacking sight (primarily made up of mundanes, the nonmagick folk) will only see an ordinary letter to one's lover.

Congratulations! You have been accepted to the Academy of Merlin, located northeast of Cardiff, Wales. Perhaps you did not apply to our school - perhaps you were chosen instead. Regardless of the reason, you are now set on your path to come here. Do not worry about anything but travel expenses - our aim is to educate the next generation of magic, not empty the pockets of their parents.

Perhaps you have not heard of the Academy, which is unusual but not unheard of. We are a prestigious magick school with the rather famous Merlin's Oak in the center of the campus. You may know the legend of Merlin being turned into an oak tree by Vivienne, his treacherous apprentice. That legend is far more than mere fiction, my dear student. Merlin's power makes the campus the perfect environment to learn magic from our brilliant professors.

In the event that you are from a mundane household, another letter will follow this one shortly, saying you have won a scholarship to a highly prestigious academy for you to show to your guardians.

You will find enclosed the student handbook,
a list of school supplies and directions to the school itself. Please read this handbook in its entirety, as there is important information enclosed within.

I look forward to seeing you at the beginning of the year, my dear student.
— Headmaster Louis Soulstone
The Academy of Merlin is a fantasy school roleplay that takes place in modern-day Wales, in a sort-of made-up area northeast of Cardiff. Students from all walks of life attend the Academy to study under the professors of Headmaster Louis Soulstone, the current headmaster of the Academy. However, all is rarely well at the Academy. With factions of characters from a discriminatory government bent on imposing their own rules on nonhumans, a not-so-secret secret agency dedicated to bringing justice to the magick world, three towns full of colorful shopkeepers and dangerous gangs, and a mysterious terrorist organization with their own agenda, life at the Academy is rarely dull.
The first arc, the Vivian Arc, in-story began September 2014 and ended June 2016. The second arc, the Magickless Arc, in-story began June 2016 and will end summer 2017. The third arc, the Demon Arc, began in-story summer 2020.
The old forum on Gaia Online is located here
, while the new one is here
.
---
The Academy of Merlin contains examples of:
open/close all folders
Tropes A to M
Tropes N to Z
Nature Spirit: Elves are a refined type of nature spirit, created from a touch of luna and molded by the First Elf.
Near-Death Experience: You'd be hard-pressed to find a character that hasn't had a near-death experience at this point. Near-death experiences can be and are not limited to taint, guns, blades, cave-ins, irate family members, monsters of unspeakable horror, electricity, closets, and hot ice women.
Nobody Poops: The only thing a bathroom is good for is holding a dimension rip.
Non-Human Sidekick: Many characters will have companions that are usually animals but not always. Some examples include dogs, phoenixes, robots, fairies, cats that aren't actually cats, and zombies.
Sliding Scale of Idealism vs. Cynicism: A common theme among students between first and second semester. Students that are cheerful first semester will often be jaded and more cynical second.
Speaks Fluent Animal: Elves can communicate with animals through their heightened empathy, but it works a little differently than direct contact. Rather, using their empathy, elves are able to discern an animal's feelings, and, through experience, can interpret their thoughts through that.
Speech-Centric Work: The majority of the roleplay takes place in a live chat, so most of the roleplaying itself is dialogue based.
Weather Manipulation: It's possible to cause this on a smaller scale with interelement magic. Using Merlin's Oak as a magic amplifier makes it possible to really change the weather.
Weirdness Censor: Glamour is a type of magic that can hide the true appearance of things, even from those with Sight.
Weirdness Magnet: Justified in that Merlin's Oak is an extremely powerful magical hotspot, and that people are going to be looking for ways to exploit it if possible.
---